MQI Bahrain celebrates Milad-un-Nabi ﷺ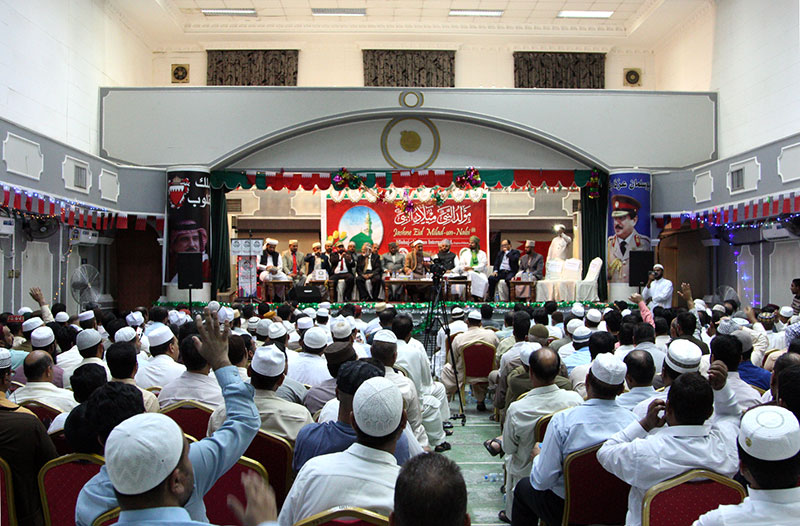 Annual Milad-un-Nabi ﷺ conference was organized by Minhaj-ul-Quran International Bahrain to celebrate birth anniversary of the Holy Prophet ﷺ on 18th November 2017 at Pakistan Club, Manama, Kingdom of Bahrain under the patronage of Shaykh Rashed Bin Ibrahim Al-Muraikhi, (Chief Patron of Jamiat Imam Malik Bin Anas, Bahrain).
The glorious conference was presided by the chief guest Allama Muhammad Sadiq Qureshi Al Azhari, the global Ambassador of MQI. Prominent social, religious & business community members and representatives of civil society were the guests of honor on the occasion. The event was attended by a large number of Pakistani, Indian, Bangladeshi and Bahraini citizens with families.
Vice Ameer MQI Bahrain, Muhammad Sajjad Hassan Qadri Mujadidi conducted the program in his unique spiritual manner. The program started with Tilawat by Nazim Membership, Qari Muhammad Haq Nawaz. Naat Shareef was recited by Mr. Ijaz Ahmed Mirza (Vice President MQI Bahrain), Mr. Ishaq Nadeem (Vice President Majlis e Shoora), Qari Abdul Shukoor and Mr. Ijaz Ahmed Qadri recited Naat Sharif.
Muhammed Ashraf Bhinder (Ameer MQI Bahrain) and Abdul Rahim Chishti (President MQI Bahrain) addressed the audience and highlighted the role of MQI Bahrain in spreading message of global peace and harmony. They invited public to be part of this noble cause through membership of MQI and expressed note of thanks to Nazim MQI, Mr. Dildar Hussain Qadri, Mr. Ghulam Hussain, Mr. Abid Hussain and all members of NEC for making arrangements of the glorious ceremony.
Chief Guest, Allama Sadiq Qureshi delivered the keynote speech to the audience. He explained the need and necessity of celebration of Milad-un-Nabi in the light of Quranic verses and Hadith. He further emphasized spreading Islam's international peace message and highlighted efforts of MQI and Shaykh-ul-Islam Dr. Muhammad Tahir-ul-Qadri in promoting the message of love and peace. The speech was listened to by the audience with overwhelming spiritual feelings, emotions and the love of the Holy Prophet ﷺ
Allama Sadiq Qureshi presented "Global Ambassador of Peace Award" to National Executive Council, MQI Bahrain. The chief guest also presented medals and certificates to Mr. Abdul Rahim Chishti, Mr. Sajjad Hassan, Mr. Ijaz Ahmed Mirza, Mr. Dildar Hussain Qadri, Mr. Hafiz Shahzeb, Mr. Faiz-ul-Hassan and Mr. Qari Haq Nawaz in appreciation of their outstanding performance. He also presented life membership certificates to few new members out of the total 32 new members during last three months.
MQI Bahrain arranged various stalls at the venue comprising books and CDs of Shaykh-ul-Islam Dr. Muhammad Tahir-ul-Qadri. A large number of people bought books and CDs from these stalls.
The Milad program ended with Salat-o-Salam by Mr. Sajjad Hassan and Dua by Allama Sadiq Qureshi sahib followed by the Milad feast.