Charity Iftar Dinner held under MWF Halifax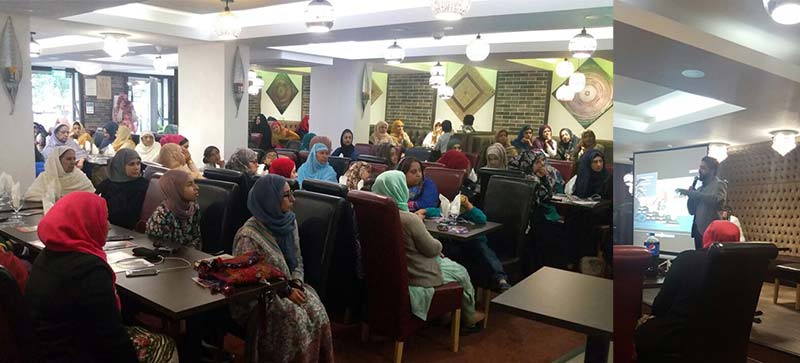 MWL Halifax organised a Charity Iftar Dinner at Babar Khans restaurant in Dean Clough on Saturday 3rd June 2017.
Approximately, 100 ladies attended the Charity Iftar Dinner. The special guests attending the dinner included Sister Nasreen (MWL North, President), brother Adnan (Minhaj Welfare Foundation) and Sister Amina Sultani who beautifully engaged the audience with heart-warming naats.
The program started with Tilawat-e-Qur'an and greetings and salutations were sent on our Beloved Prophet Muhammad (SAW). Following this, brother Adnan presented a talk on how the MWF team use Zakaah and Sadaqah money that they receive. He also highlighted where this money is most needed at the moment to help those in need. Brother Adnan also briefly explained about the MWF project 'Aghosh,' in Pakistan and reinforced the urgent need of funding for orphans to provide them with 3 meals a day, clothes, health support and good education. His talk touched the audience and he encouraged them to donate open-heartedly.
Sister Nasreen continued on this point by stressing the rights of orphans and what our beloved Prophet Muhammad (SAW) said about looking after orphans. She also encouraged the audience to give their Zakaah, Sadaqah and donations so that MWF can work to provide and support these orphans.
Sister Amina Sultani recited some beautiful naats and encouraged the audience to join her. The dinner was concluded with Dua and iftar buffet dinner served to all the attendees.
The attendees donated generously, and a total of £8000 was raised under MWL Halifax. In addition to this, 20 hand pumps and 12 orphan children were sponsored.