Dr Tahir-ul-Qadri thanks well-wishers for birthday wishes
The workers and leaders of MQI and PAT offered a sacrifice of 23 goats at the central secretariat on the occasion of the 67th birthday of PAT Chairman and founding leader of MQI Dr Muhammad Tahir-ul-Qadri. Cake-cutting ceremonies were held in different cities in which prayers for good health and long life of Dr Qadri were made.
The PAT leader thanked the workers and people belonging to all segments of society for birthday wishes that he received from across the world. The birthday ceremonies were held in Karachi, Peshawar, Quetta, Lahore as well as in different cities of the US, UK, Spain, Denmark, Norway, Holland, Canada, Australia and South Africa. The ceremonies were held in the Islamic Centres in which the scholarly, religious and moral services of Dr Tahir-ul-Qadri were lauded.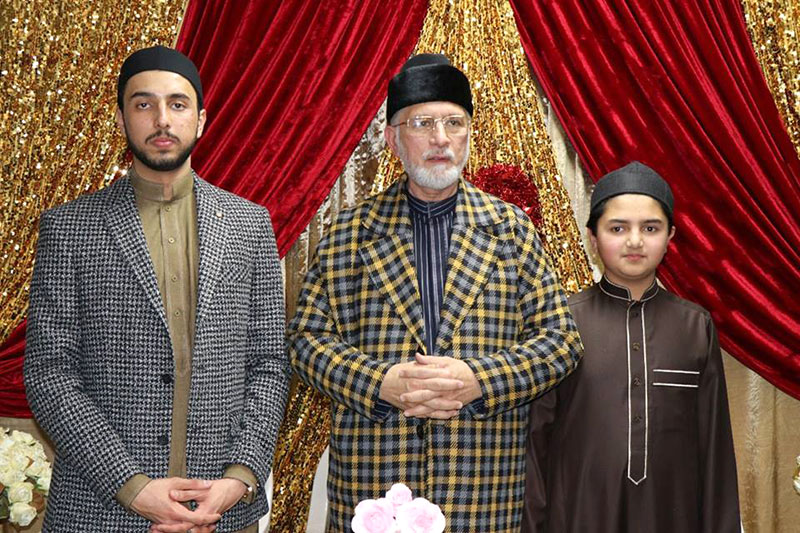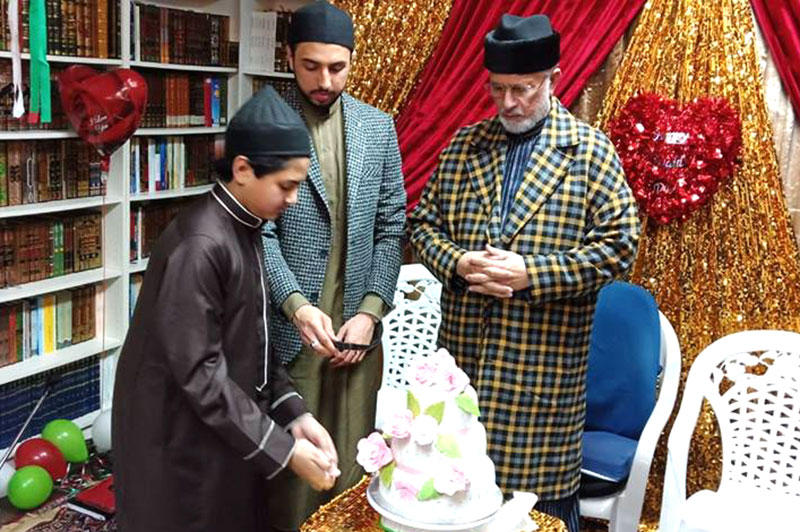 In Toronto, Dr Tahir-ul-Qadri's grandsons, Hammad Mustafa Al-Madani and Ahmad Mustafa Al-Arabi, arranged a cake-cutting ceremony also attended by him. The central birthday ceremony in Pakistan was held in Minhaj University Lahore where the speakers and office bearers showered tributes on the leadership of Dr Qadri for his services for the welfare of humanity. PAT President Qazi Zahid Hussain and Secretary General Khurram Nawaz Gandapur congratulated Dr Qadri on his birthday.
Qazi Zahid Hussain said on the occasion that Dr Tahir-ul-Qadri rendered exemplary services in the realms of politics and religion. He said that we are proud of the son of the soil who has projected the interests of Pakistan throughout the world.
Khurram Nawaz Gandapur said that Dr Qadri is an identity of Pakistan and Islam in the world. He is the only leader on whose signal the workers are ready to make any sacrifice.
PAT Secretary Information Noorullah Siddiqi said that Dr Tahir-ul-Qadri has left indelible impact on the Pakistani politics. His name and work is enough to scare the dishonest and the corrupt.
GM Malik, Basharat Jaspal, Fayyaz Warraich, Brig. (r ) Mushtaq Ahmad, Rafique Najam, Ahmad Nawaz Anjum, Jawad Hamid, Allama Imdadullah, Naeed-ud-Din Ch Advocate, Mazhar Mahmood Alvi, Ch Irfan Yousaf, Hafiz Ghulam Farid, Sohail Shahzad, Sohail Ahmad Raza and Ms. Farah Naz congratulated Dr Tahir-ul-Qadri on his 67th birthday.