Plan of Action for Religious Leaders and Actors to Prevent Incitement to Violence that Could Lead to Atrocity
Meeting in Vienna – 'Plan of Action for Religious Leaders and Actors to Prevent Incitement to Violence that Could Lead to Atrocity', 13-15 February 2018.
By Dr Zahid Iqbal, Advisory Council of Minhaj-ul-Qur'an UK, Al-Hidayah, Peace Education Programme of Minhaj-ul-Qur'an, Chair of Governors of Minhaj College Manchester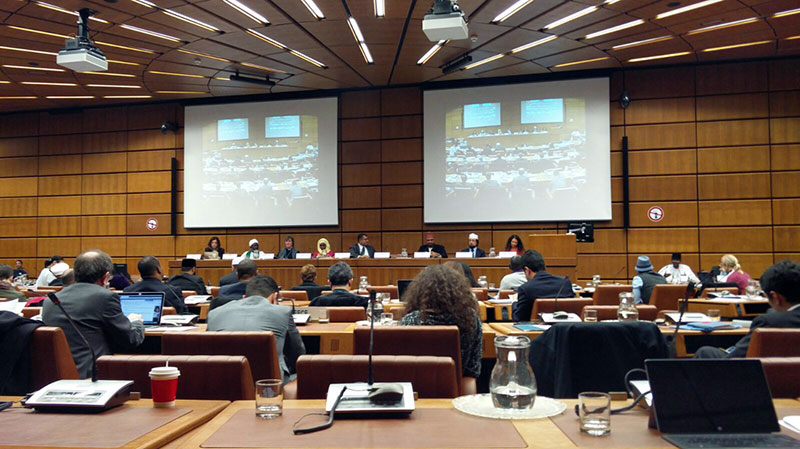 Having attended on behalf of Minhaj-ul-Qur'an International (MQI) UK, the first day of the 'Implementation meeting for the Plan of Action for Religious Leaders and Actors to Prevent Incitement to Violence that Could Lead to Atrocity Crimes' in the United Nations Office in Vienna today, I thought I would share some of my observations, and provide a simple challenge to the readers towards the end.
First a bit of background. This conference has been co-sponsored by the World Council of Churches, The Network for Religious and Traditional Peacemakers and the KAICIID (King Abdul Aziz International Centre for Interreligious and Intercultural Dialogue). In attendance were dozens of representatives and leaders from an assortment of religious, human rights, interfaith and conflict prevention organisations across the world, along with some representatives of various governments, and of course some senior UN leaders.
This meeting is essentially building upon the 'Fez Process', beginning as the name implies in Fez, Morocco. This was a series of consultations that took place between April 2015 and December 2016 under the leadership of the United Nations Office on Genocide Prevention and the Responsibility to Protect. The Fez Process was initiated to focus on the role of religious leaders and actors in preventing and countering hate speech which could lead to atrocity crimes. A Plan of Action for religious leaders and actors to prevent incitement to atrocity crimes, also called the 'Fez Plan of Action' was the result of the consultations.
My first observation is that beyond the elaborate names, the final draft of the Plan of Action is a very comprehensive and well-considered group of recommendations. These recommendations are organised into three main clusters: Prevent, Strengthen, and Build. For those interested in reading the full document, it is downloadable in PDF format from www.un.org/en/genocideprevention.
I was also struck by how closely these recommendations align with the aims and objectives of His Eminence Shaykh-ul-Islam and Minhaj-ul-Quran, in terms of the promotion of human rights, protecting the rights of minorities, empowering of women and young people, and of course countering extremism and violence of any kind. It is noteworthy that much of the work that is being carried out by MQI is already within the very domains that the recommendations of this Plan of Actions is making.
Being more specific, here are the three main clusters elaborated a bit more:
PREVENT:
Specific actions to prevent and counter incitement to violence
Prevent incitement to violent extremism
Prevent incitement to gender-based violence
STRENGTHEN:
Enhance education and capacity building
Foster interfaith and intra-faith dialogue
Strengthen collaboration with traditional and new media
Strengthen collaboration with regional and international powers
BUILD:
Build peaceful, inclusive and just societies through respecting, protecting and promoting human rights
Establish networks of religious leaders.
Now I challenge anyone to give me just one of these above points that His Eminence Shaykh-ul-Islam Dr Muhammad Tahir-ul-Qadri and MQI have not spearheaded or been involved in some way or form for many years already. Furthermore, in many of these domains, there is no religious organisation that can surpass Minhaj.
That said, I believe we can do a lot better, especially when we pool our talents and work in cooperation with each other. For those asking, 'what is our role in the UK or the West?: in a nutshell, consider the above recommendations, and get involved in these activities through your local centres or branches, or one of the projects, such as the Peace Education Programme or Al-Hidayah.
Of course, we are also about educational, spiritual and cultural/socioeconomic development of Muslim communities across the world, in line with our core objectives, but across the world, especially the West, Shaykh-ul-Islam has devoted much time to the work of promoting intercultural and interfaith peace and countering extremism and violence of all kinds, that we should do this work justice.
This conference itself has been a bit of an eye-opener into the workings of the UN and the machinations of organisations competing for resources and influence, but I have met some great people here, both Muslim and non-Muslim, and I believe that as an organisation, MQI can be an effective partner in the implementation of this plan through its ongoing engagements and activities.