MQI London hosts Democratic Engagement - Shaping My Future series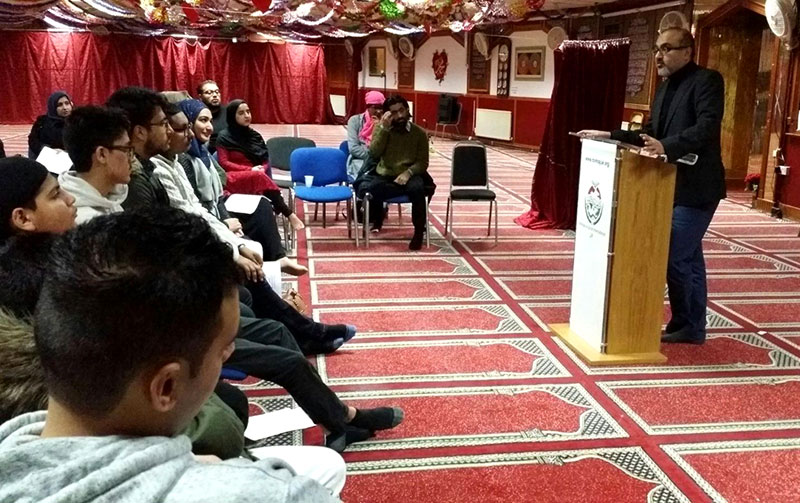 Since the 10th of December 2017 Come Incorporated has been delivering the Democratic Engagement - Shaping My Future, a series of workshops examining issues such as gangs, socio-economic factors, crime, bullying, radicalisation, extremism, neglect, resentment, hopelessness and disenchantment. The workshop was hosted in the Minhaj-ul-Quran mosque in Forest Gate.
The unique series of workshops have provided an opportunity to 23 young people in the community to develop their ideas, thoughts and views, and learnt how to voice their views in a legitimate and democratic manner.
At each workshop, young people examined and discussed subjects such as mainstream political ideologies, extremism, fake news, identity, media and critical consumption, understanding how group influence and charismatic leaders can distort perceptions of what is right role models and how to get your voice heard.
The penultimate workshop entitled 'Role Models', held on Sunday 28th January at 2 pm, introduced the students to local role models in the community as well as offering opportunities, employment, training and a host of other activities to the students and the community at large. Amongst those who attended included:
Haydar Muntadhar, Community Resilience Officer Enforcement and Safety Division London Borough of Newham who co-facilitated the workshops with Shahid Mahmood, Community Development Executive at Minhaj ul Quran International London congratulated the young students for taking part in the initiative. He informed the audience that many of the youngsters on the project had actively participated in helping homeless persons in the community on Christmas Day and on the New Year's eve. He talked of the tremendous success of the initiative and how shaping the future was unique in creating social cohesion and giving a platform to young people from diverse communities and a voice to be listened to.
Rachel Cole, Assistant Programme Manager at the Challenge National Citizens Service (NCS) and Roderick Eneh at the Challenge National Citizens Service (NCS) talked about the opportunities available to young people to learn new things. This was also a great initiative to bring young people from different communities together.
Sean Talbot Partnership Engagement Manager Inspiring Families Employment, Skills & Enterprise Serco UK & Europe talked about his pleasure of being at the heart of the community in a mosque being able to support people with employment and opportunities. He gave an insight into the holistic help and support available to people in the community by Serco who were a huge organisation who valued community initiatives such as democratic Engagement- Shaping my Future. He explained the value of working to the individual, family, community and society and how Serco through Come Incorporated and Minhaj ul Quran would help the community into employment.
Ian Martin, Community Neighbourhood Manager at Forest Gate Strategic Commissioning and Community Directorate, talked of the great work Minhaj-ul-Quran did throughout the world. He talked about how the library services had changed over the years to provide a huge range of benefits and services to communities.
Ben Amor, Client Adviser at Peabody Trust, expressed his pleasure at being invited to such an important event and how Peabody would work with Come Incorporated and Minhaj-ul-Quran to help people in the community.
Zahra Maalow, Manager Forest Gate Youth Centre, talked about her trials and tribulations as a refuge from Somalia and how she had struggled in the beginning adjusting to British life. She told the audience how she had tackled each problem head on and despite setbacks in the life she had come through. With strong determination and perseverance, she went from only knowing one language to becoming conversant in 7 languages. She praised the young students who had participated in the 'Shaping my Future workshops' and promised to help them in the future.
Tony Lewis, Community Support Caritas at the Anchor House, talked of his life as a person without home and the difficulties of life as a young person bought up where parents passed away having to be raised by grandparents reaching the heights in the world of football, going through separation and then finding himself without a place to call home. He talked about how he wanted to bring organizations together to support the most needy and vulnerable.
Tracy Gunn, Faith, an Officer from Newham Borough Metropolitan Police, spoke about her delight to be part of such an important event and how the 'Shaping my Future' initiative was about breaking boundaries, building strong bridges amongst all communities and social cohesion. She praised the event as a huge learning opportunity for her and how she was touched by the deeply personal, insightful and moving stories she had heard. She praised the young participants who attended the course.
Raheel Butt, former gang member and offender and now founder of non-profit organization titled Community and Rehabilitation Solutions, an organisation which mentors young people away from gangs and crime thanked the MQI for inviting him and opening its doors to the community to discuss issues in a very open and progressive manner. He talked about his life in and how from age 5 he had become involved in a life of crime. He discussed his life of crime into drugs, guns, gangs and his inner struggles to come to terms with what he was doing and how he needs to change. He talked about how the lucrative life of crime and drugs and guns was. Very difficult for young people to leave as they offered things that an ordinary ever day life did not. His was a wakeup call to people to try understanding the complexities of being a criminal. He expressed his desire that organisations had to support young people into work and more importantly in keeping and sustaining that job.
Andrew Fearn, Community Engagement Coordinator Community Neighbourhoods from London Borough of Newham, spoke about the need for all communities to work together to support each other. He talked about how through the greatest tragedies and struggles people learn to work together. He talked particularly about Holocaust day, which was on the 27th January 2018 and the Rwandan genocidal mass slaughter of Tutsi's in Rwanda by members of the Hutu majority government which saw an estimated 1,000,000 Tutsi's being killed during just 100-day. He talked about how the Tutsi leaders could never forgive nor forget but learnt to live together for the betterment of society.
Dr Zahid Iqbal, Director Peace and Education Project, thanked all the guests and participants for attending the workshop. He talked about how the event had been very emotional and inspirational. Dr Zahid expressed deep regret and apologised that although the Muslims had built beautiful mosques, they had failed to be more proactive in working with the community and did not deal with the issues and the difficult plight of people in a society. He emphasised that for far too long we had remained in a safe bubble of complacency and now was the time for a change. He expressed a shred belief that a lot more needed to done.
Other guests in attendance included:
Ria Chapman, Community Support Caritas Anchor House
Chalie Kaur, Community Support Caritas Anchor House
Imran Hendry Community Support Caritas Anchor House
Councillor Winston Vaughan, Forest Gate South Labour
Tanvir Chahal, Philanthropist
Dr Roma Tahir, Philanthropist
Sajid Hussain, Chief Executive Charity4Humanity
Shahid Mahmood, Director of Come Incorporated, a Community Interest Company and Community Development Executive for Minhaj ul Quran and facilitator of the workshops said that the event had been a wonderful coming together of different organisations and communities to help people who for whatever reason were disadvantaged and needed support.
He explained that it is important that all communities come together to share and rejoice in the good times but also sharing is most important when people are in difficulties and hard times. We all need to look out for each other.
Reflecting on the 'Democratic Engagement and Shaping my Future initiative,' he said that the workshops have been a great success. He was hopeful that workshops such as the 'Democratic Engagement and Shaping my Future Workshop' would be delivered everywhere as they raised the understanding and aspirations of people. They would play a huge part in stopping alienation, resentment and people being motivated by evil and twisted ideologies.
The only way to tackle extremism is to get people to talk and openly discuss issues. The final workshop in March will be in Parliament where the students, all communities and organisations will talk about what the students have learnt have learnt as well as what is important to them and will have discussion with parliamentarians about the myriad of challenges, and concerns confronting Young People.
If you are looking for work or training in any sector contact Shahid Mahmood on 07786478961 email him on s.mahmood@rocketmail.com
On Saturday 3rd March at 4.30pm Minhaj-ul-Quran together with Newham Council and the Metropolitan Police will hold a Community reassurance and Women's Day event. Everyone is invited.