Australia: Eid ul Fitr Prayer at Minhaj City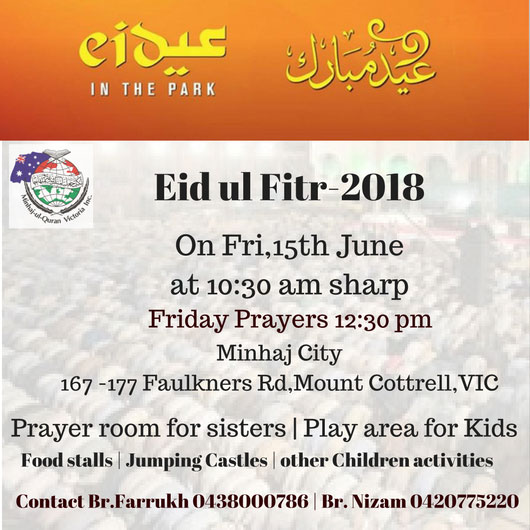 Minhaj-ul-Quran Victoria Inc cordially invites the community to celebrate the Eid ul Fitr at, ​Minhaj City, 167 - 177 Faulkners Road Mount Cottrell Vic 3024
​All are invited with families.​
There will be separate arrangement for the sisters and Khutba will be deliver in Urdu by Allama Hafiz Nazeer Ahmad.
After the Eid prayer lots of enjoyment for the community specially for the children.
Traditional food stalls including Siri-Pay, Nihari (Fresh Naan), tea, coffee and dishes including lots of Sweets etc
Please come along with the whole family and enjoy the Eid Maila after the Eid prayer.​
You can give the Sadqa e Fitr at our stalls before the Eid prayer; ie $15 per person. EFTPOS facility is available.
Eid Maila after Eid Prayer
Highlights of the program:
Eid Prayer and Khutba (10​:30​ AM)
Separate rooms for Sisters.
After Eid Namaz lots of fun especially for children including,
Jumping castle.
Face painting.
Moving Zoo.
Pony Rides etc.
Lolli bags.
Break fast and lunch will be available on traditional Pakistani and Indians food Stalls.
EFTPOS facility is available.​
Lot of Free parking for every one.
Venue:
Minhaj City
167 - 177 Faulkners Road
Mount Cottrell Vic 3024
Eid Prayer and Khutba: 10​:30​ AM
Friday prayer: 12:30 PM
​All are invited with families.​
The Eid ul Fitr celebration will continue till 3:00 PM
For any query please Contact:
Farrukh Hussain: 0438786000
Mohsin Shafiq: 0408273786
​Khaja Nizam: 0420775220​