UK: Exclusive meeting of MWL North Zone with Shaykh-ul-Islam Dr Tahir-ul-Qadri
On June 30, Shaykh-ul-Islam Dr Muhammad Tahir-ul-Qadri, the founding leader of Minhaj-ul-Quran International (MQI), addressed the Minhaj Women League and Minhaj Sisters (North Zone) on the topic of "Moral Excellence and Spiritual Advancement".
Save yourself from short sightedness and narrow mindedness. These give birth to extremist thoughts and actions. Have a big heart and look positively at one another. Always hold a good opinion (Husn e Zann) for your friends and family.#SpiritualLecturesByDrQadri pic.twitter.com/kXa9BFEhnf

— Dr Tahir-ul-Qadri (@TahirulQadri) June 30, 2018
Shaykh-ul-Islam Dr Muhammad Tahir-ul-Qadri visited the North of England on 30th June 2018 and exclusively met with Minhaj Women's League (MWL) North Zone chapter at Jamia Masjid Minhaj-ul-Quran, Nelson. This was a joint meeting with Minhaj Sisters. The purpose of the meeting was to present the achievements of the North Zone's Minhaj Women League and the MWL North Zone Team over the last year.
Following registration, guests arriving from outside Nelson and afar were served food by MWL Nelson and there was time allowed to interact with the other tanzeemat.
His Eminence Shaykh-ul-Islam Dr Muhammad Tahir-ul-Qadri alongside his beloved family including Dr Hassan Mohi-ud-din Qadri, daughter-in-law Dr, Ghazala Qadri, and beloved grandchildren Shaykh Hammad Mustafa Qadri and respected Basima Qadri were warmly welcomed by children from Oldham beautifully reciting 'Tala Al Badru Aalaina' and other nasheeds with the duff and flowers.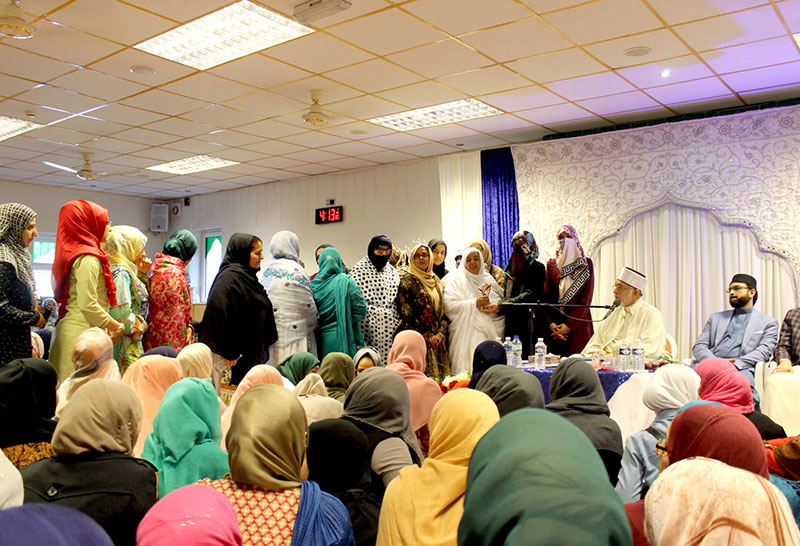 The programme commenced with a welcome from Sister Musarrat Hussain (MWL President, UK) with recitation from the holy Quran by Sister Aqsa (Minhaj Sisters).
Sister Shaila Parveen (MWL North Zone General Secretary) hosted the event and warmly welcomed Shaykh-ul-Islam and His respected family and the local organizations.
Sister Nasreen Akhtar (MWL North Zone President) gave a short welcoming talk expressing how delighted and blessed she felt by His Eminence Shaykh-ul-Islam Dr. Muhammad Tahir-ul-Qadri and his respected family's visit to Nelson.
She introduced the North Zonal team individually to His Eminence Shaykh-ul-Islam; Sister Shaila, Sister Tayibbah (MWL North Zone Joint General Secretary), Sister Ehram (MWL North Zone Dawah Secretary) and Sister Kanval (MWL North Zone Media Secretary) and expressed her hopes of them leading in the future.
The programme moved forward with reports of achievements of the North Zone MWL's being presented to Shaykh-ul-Islam Dr. Muhammad Tahir-ul-Qadri and awards and certificates being presented to the tanzeemat. Respected Ghazala Qadri and Respected Sister Basima Qadri handed these to the tanzeemat. Shields for 'Outstanding Achievement in Fundraising' were given to the top three achieving tanzeemat with Nelson in first place, followed by Bradford and Tinsley in second and third.
Certificates were given to Sister Sehrish, Sister Ehram, Sister Naseem and Sister Saiqa for holding successful workshops throughout the North Zone.
Accrington, Oldham and Tinsley were given certificates for their outstanding work in memberships. Trophies were also given to Nelson, Bradford, Halifax, Accrington, Burnley, Manchester, Crumpsall, Cheethamhill, Huddersfield, Tinsley, Rotherham, Sheffield, Rochdale, Bolton, Oldham, Blackburn and Brierfield tanzeemat for their continued efforts. Shaykh-ul-Islam congratulated each tanzeem individually on their success and efforts.
The event concluded with words of advice and wisdom on spirituality and morality from Shaykh-ul-Islam which the audience attentively listened to.
With over 500 MWL sisters in attendance from the North Zone and the chance to individually greet His Eminence Shaykh-ul-Islam Dr. Muhammad Tahir-ul-Qadri, the event was thoroughly enjoyed by all those who attended. The attendees openly expressed how blessed they felt to have attended.