Dr Tahir-ul-Qadri inaugurates Islamic centre in Texas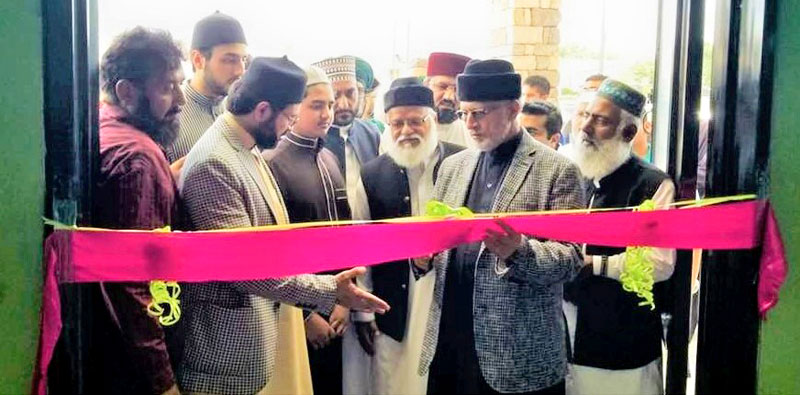 Addressing an inaugural ceremony of an Islamic centre in the Katy city of the American state of Texas, MQI patron-in-chief and the founding leader Dr Tahir-ul-Qadri has said that Islam teaches us about establishment of an international brotherhood and a peaceful global society. He said that Islam has particularly ordained about taking care of the less privileged sections of society, guaranteed the religious freedoms and empowerment of the minority communities. He said that the world today is a victim of warfare, and lack of trust, stating that the need of interfaith dialogue could not more urgent than it is today. He said that true teachings of religions can lay the foundation for a result-oriented dialogue between different faiths. He said that the reasons for ongoing warfare and turmoil in the world are more political and economic in nature than religious.
MQI Supreme Council Chairman Dr Hassan Mohi-ud-Din Qadri and the leaders of MQI USA were also present on the occasion. Talking about Hajj (holy pilgrimage), Dr Tahir-ul-Qadri said that it was essence of the whole system of worship and manifestation of an excellent Islamic culture. He said that during the course of performing Hajj, the universal aspect of Muslims being one nation is pronounced most glaringly. He prayed to Allah Almighty to enrich the Muslim community with the spiritual blessings and act upon the essence of Islamic ritual of sacrifice, which is selflessness.
Dr Tahir-ul-Qadri threw light on the aims and objectives of MQI. He said that he founded this organization many decades ago to promote interfaith dialogue and eliminate hatred. He said that we have particularly focused on moral and spiritual training of the youth in an effort to educate them on the correct Islamic teachings so that they do not fall prey to any extremist agenda. He said that we are working on imbuing the youth with a spirit of learning, moral training and a love for peace. He said that the youth are the future of the Islamic world as well as the whole humanity and they need to be empowered with right kind of education, enabling them to sift fact from fiction.