Spain: Dr Hassan Mohi-ud-Din Qadri addresses inaugural ceremony of Quranic Encyclopedia in Barcelona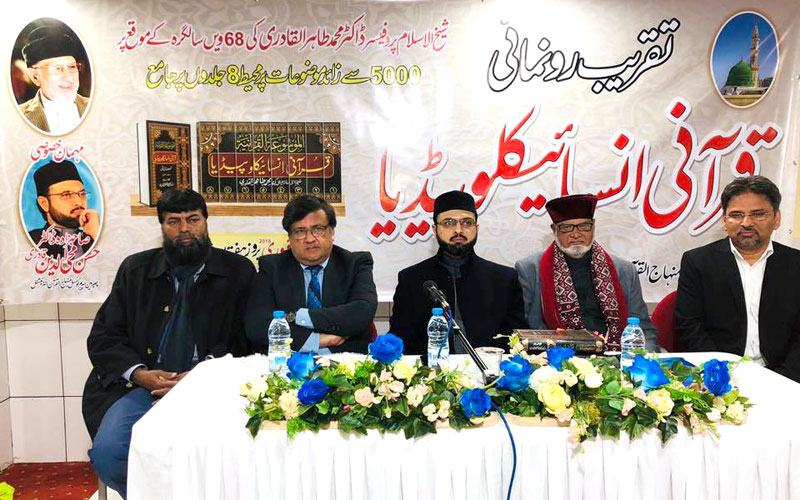 The Holy Quran panacea to all human problems: Dr Hassan Mohi-ud-Din Qadri
The inaugural ceremony of the Quranic Encyclopedia was held in Barcelona on February 16. Chairman MQI Supreme Council Dr Hassan Mohi-ud-Din Qadri was the keynote speaker. Those present on the occasion included Consul General Pakistan Chaudhry Imran Ali, Patron of the MQI Spain Muhammad Nawaz Kayani, President Minhaj European Council Zil-e-Hassan Qadri, Muhammad Iqbal Ch., and renowned people belonging to different walks of life in addition to a large number of the PAT and MQI workers.
The speakers in their speeches appreciated the scholarly work of Shaykh-ul-Islam Dr Muhammad Tahir-ul-Qadri. They stated that it will continue to quench the intellectual thirst of the people for a long time to come. They said that the identity of Dr Tahir-ul-Qadri is the quality research work he has carried out in different fields and disciplines. They congratulated him on compiling the Quranic Encyclopedia.
In his keynote address, Dr Hassan Mohi-ud-Din Qadri said that the holy Quran is the Word of Allah and it has a solution to all the challenges facing the world. He said that Islam is a religion of tolerance, peace, love, and moderation. He said that whosoever studies the holy Quran with sincerity can neither go astray nor become an extremist. He said that the Quranic Encyclopedia is a work of immense value for the researchers and intellectuals interested in the Quranic sciences, stating that its study will guide every section of society.
The Chairman Supreme Council said that the Encyclopedia is an incredible addition to the body of knowledge on the Quranic sciences which will quench the thirst of knowledge of the seekers and will enable the humankind to get rid of the extremist and negative tendencies. He said that Dr Tahir-ul-Qadri has protected the youth from extremism through his speeches and writings. He said that it is important that the books of Dr Qadri are spread war and wide so that the society can become moderate and tolerant.
Dr Hassan Mohi-ud-Din Qadri and Chaudhry Imran Ali cut the cake of Dr Tahir-ul-Qadri's birthday at the end of the ceremony.