Dallas: Grand Mawlid-un-Nabi ﷺ celebration held at MQI Community Centre
وَمَآ أَرۡسَلۡنَا مِن رَّسُولٍ إِلَّا لِيُطَاعَ بِإِذۡنِ ٱللَّهِۚ
"And We have not sent any Messenger but that he must be obeyed by the command of Allah." (al-Nisa, 4:64)
Alhamdullilah, Minhaj-ul-Quran Dallas arranged daily Milad program from the 1st of Rabi-ul-Awwal to the 12th of Rabi-ul-Awwal with Grand Mawlid al-Nabi (SAW) celebration on Saturday, November 9, 2019.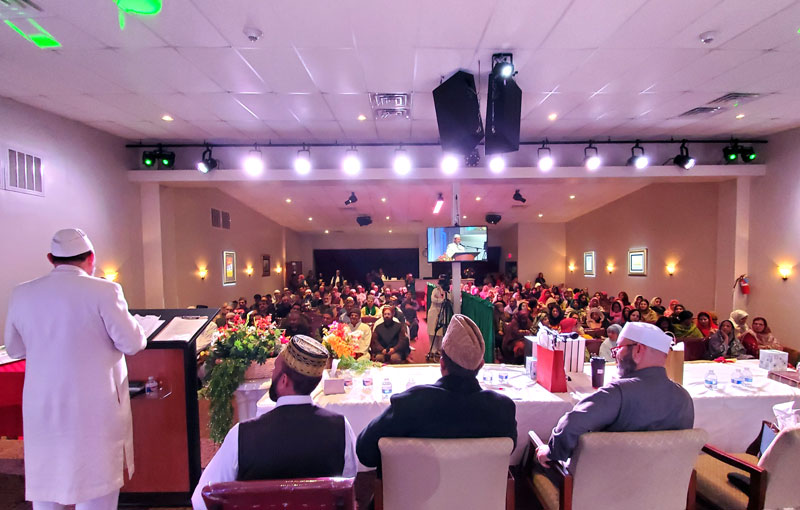 An impressive number of people attended the program with a spirit of celebrating Mawlid al-Nabi ﷺ. There were two masters of ceremony namely Brother Zohair Akhtar and Aly Boghani, who coordinated the proceedings well. The proceedings of the celebration got underway with the recitation of the Holy Quran by young Qari Suhaib followed by Hamd by Brother Shoaib. Several famous Naat reciters from DFW area, including brothers Amjad Shahbaz, Syed Ali, and Imtiaz Jaan, also had the honor of presenting praises and greetings on Prophet Muhammad ﷺ.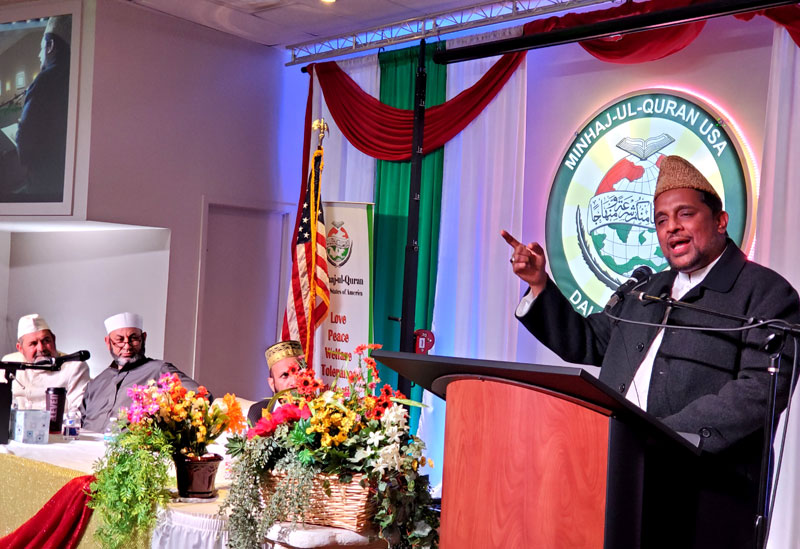 Syed Sabihuddin Rahmani from Pakistan was the special naat reciter of the program who kept the audience spellbound with his melodious way of reciting. His naats increased the spirituality of the program. All the guest scholars of Jame' Hasan al-Basri including Dr. Zafar Anjum, Dr. Farid Farooqi, Shaykh Aseel Khan, and Shaykh Majed Sabki, who imparted the love for the Holy Prophet ﷺ in people's heart through their inspiring speeches on the last 11 days, also attended this concluding program. The Sunday School students presented melodious Qaseedah Burdah Shareef. Also, all the students of Sunday Islamic school and Quran class who performed in daily Milad were recognized for their participation and awarded.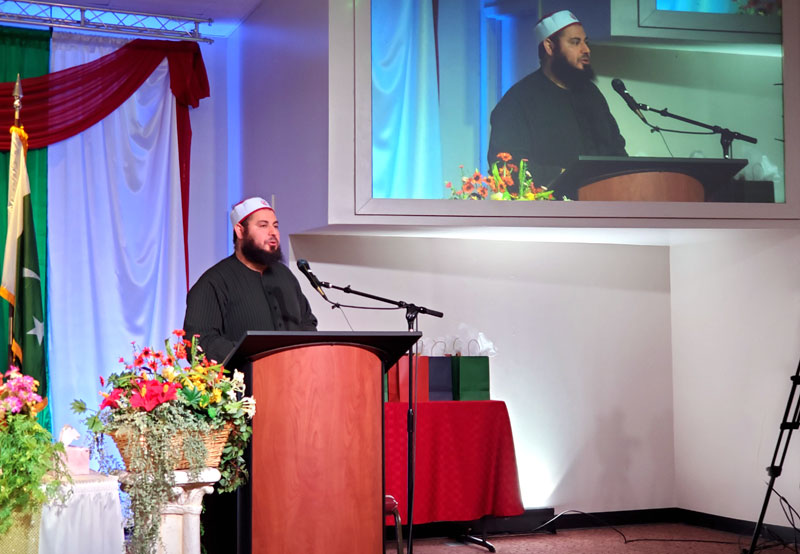 Furthermore, students with perfect attendance in the last 12 days were also rewarded. The keynote speaker of the program was Shaykh Muhammad Al-Gebali who delivered a comprehensive and informative discourse very eloquently on the love of Holy Prophet ﷺ. He said real love is that we remember our Prophet ﷺ all our life inside and outside of the masjid. The love should be manifested in practice. We should love our Holy Prophet's ﷺ Shamail, which is manners, and physical characteristics, and we should practice that in every aspect of our life. Shaykh Gebali explained the 'Shamail' of the Holy Prophet ﷺ through many hadith including a beautiful hadith that Anas bin Malik reported that he never smelled any perfume better than the sweat of the Prophet ﷺ.
A significant item of this blessed gathering was the cake cutting ceremony to express happiness on the birth of the Holy Prophet ﷺ. All the attendees recited Durood Shareef during the cake cutting ceremony.
Stall on the books written by Shaykh-ul-Islam Dr. Muhammad Tahir-ul-Qadri was placed a special discount sale. The program concluded with Salam presented by the group and Dua by Shaykh Aseel Khan. All the attendees were provided perfumed flowers, meal boxes, and sweets after the conclusion of the program. The program was telecast live on MinhajDallasFacebook.