Dubai: Sohail Raza attends ceremony marking 550th Birth Anniversary of Baba Guru Nanak Dave Gi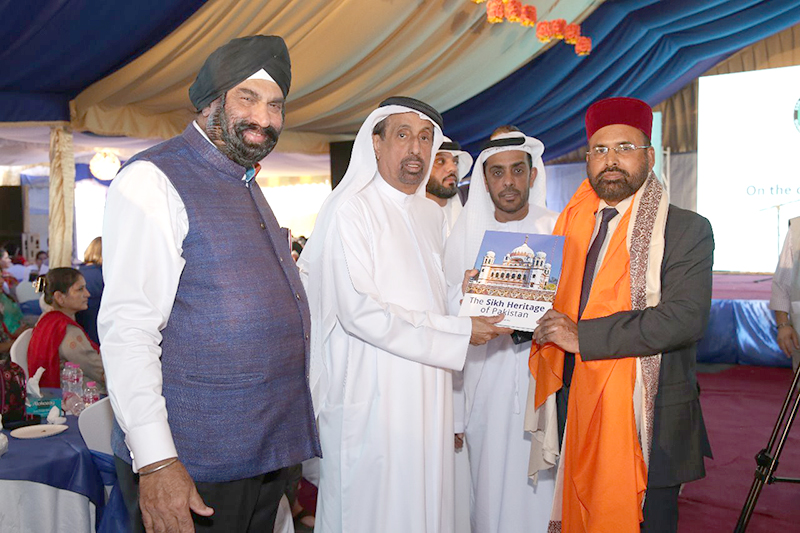 A ceremony marking the 550th birth anniversary of Baba Guru Nanak was held at Gurdwara Baba Guru Nanak Darbar Dubai, UAE on November 15, 2019. Sardar Surender Singh Kandhari was the host of the ceremony. Chief Guest on the occasion was Director General of the Ministry of Culture and Religious Tolerance Dr Hammad Al-Shaykh Al-Shaibani. A large number of people belonging to different communities and walks of life including the Indians and Pakistanis attended the ceremony. Director Interfaith Relations MQI Sohail Ahmad Raza represented Pakistan and Minhaj-ul-Quran International Interfaith Relations.
Sohail Ahmad Raza started his speech by congratulating the Sikh community on the 550th birth anniversary of Baba Guru Nanak. He said Baba Guru Nanak Dev Gi was a great human being who upheld the banner of Oneness of God through his teachings, emphasized the promotion of human values and the elimination of the class divide. He said Baba Guru Nanak founded the Sikhism on the idea of sharing and imparted the lesson of mutual respect and friendship between religions. He said he included the teachings of Sufi Saints and Walis in Gurugranth sahib due to his close association and friendship with them. He said Poet of the East Allama Dr Muhammad Iqbal paid rich tributes to Baba Guru Nanak in one of his poems.
Sohail Ahmad Raza said there are four main pillars of the teachings of Baba Guru Nanak, stating the first and most fundamental of these is a belief in the oneness of God, according to which God is the creator of the whole universe Who is eternal and ever-living. The second pillar is His remembrance and to remain busy in remembering Him. The third pillar is earning through lawful means and lastly spending the lawfully earned money on the deserving people of the society.
Sohail Ahmad Raza further said there are several very sacred places of Sikh worship in Pakistan and the Evacuee Trust Property Board ETPB, ministry of religious affairs and inter-faith harmony government of Pakistan is making every possible effort for their proper care, maintenance, and rehabilitation. He cited the opening of the Kartarpur Corridor as an example of Pakistan's commitment towards the protection of the rights of the minority communities. He said people belonging to all faiths and religions can practise their religious teachings freely, stating it indeed was the ideal of the Quaid-i-Azam Muhammad Ali Jinnah the father of the nation.
Host Sardar Surender Singh Kandhari made Sohail Raza wear Sorapa (religious garment) and presented a beautiful souvenir to him. Sohail Raza gifted two books namely Sikh Heritage of Pakistan and Dr Tahir-ul-Qadri's Fatwa on terrorism to the Indian Ambassador and Dr Hammad Al-Shaykh Al-Shebani. He also presented an honorary shield to Sardar Surender Singh Kandhari in recognition of his services for the promotion of the Sikh-Muslim friendship.