Oslo: Scholars call on Dr Hassan Mohi-ud-Din Qadri
The Muslim world needs experts to lead it to progress: Dr Hassan Mohi-ud-Din Qadri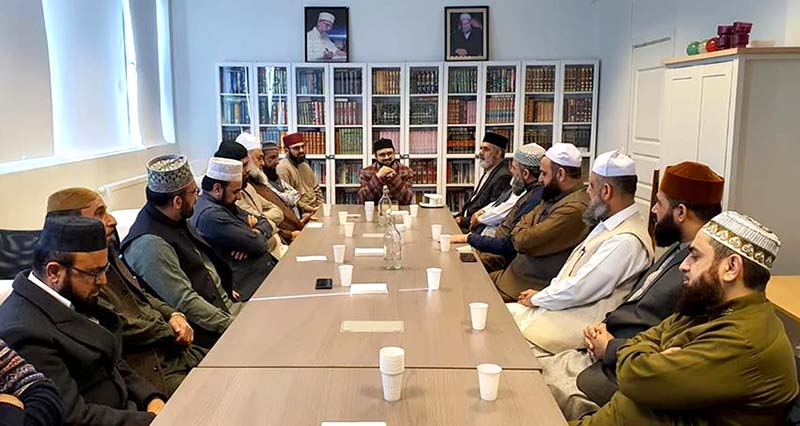 Various Norwegian professionals and graduates from different educational institutes of Minhaj- ul-Quran called on Dr Hassan Mohi-ud- Din Qadri, Chairman of Minhaj-ul-Quran International's Supreme Council.
Speaking to them, Dr Hassan Mohi-ud-Din Qadri said that only the experts in science, medicine and information technology could revolutionize the existing pathetic conditions of Pakistan as well as the Muslim world.
He lamented that the share of Muslim world, comprising 1.5 billion souls, in technological inventions is negligible. He urged the rulers and those having resources to think why local educational institutions are not producing great philosophers like Rumi, Razi, and Ghazali.
Dr Hassan urged the Pakistani educated and professional diaspora to work in research projects as the Muslim world, particularly Pakistan, needs experts in various sectors. He said local promising students also needed guidance from the experts in different fields. He said the Minhaj-ul-Quran favors revolutionary changes in the education system for the revival of the lost glory of Islam.
Dr Hassan Mohi-ud-Din Qadri said Minhaj-ul-Quran has successfully experimented the provision of a blend of worldly and religious education at one place and that Minhaj's College of Shariah & Islamic Sciences is the only higher educational institute of Pakistan whose graduates are not only religious scholars, IT experts, and also at home in economics as well as in Arabic and Urdu languages.
'Education and training have been blended at Minhaj educational institutions', he concluded.