Lack of tolerance is one of major challenges: Dr Hassan Mohi-ud-Din Qadri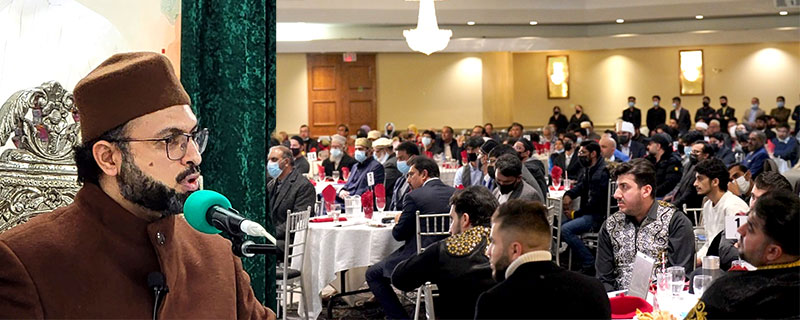 Extremism, lack of tolerance and sectarianism are some of the biggest challenges facing the Muslim Ummah. MQI is playing a multipronged educational, intellectual and reformative role in order to address these challenges under the leadership of Shaykh-ul-Islam Dr Muhammad Tahir-ul-Qadri. The forging of unity in the ranks of Muslims, interfaith dialogue, tolerance and the struggle against extremism are the goals towards which MQI is working hard day in and day out.
Chairman MQI Supreme Council Dr Hassan Mohi-ud-Din Qadri made these remarks while addressing a reception held in his honour by the members of Pakistani community and office-holders of MQI on the fourth day of his UK visit. He said that a nefarious attempt was made to defame Islam by putting the youth on the path of extremism and terrorism. He said that Shaykh-ul-Islam Dr Muhammad Tahir-ul-Qadri came forward and together with the support of educated sections of society, foiled this conspiracy.
Dr Hassan Mohi-ud-Din Qadri said that the world can become a hub of peace by promoting the values of peace, and respect for humanity. Throwing light on the training and educational role of MQI, he said that Minhaj-ul-Quran International set up institutions of learning having the international standards as part of the dream of an educated and enlightened Pakistan in which Minhaj University Lahore is paramount.
Chairman MQI Supreme Council said that MUL is the only university in the private sector that has introduced degree programs of interfaith tolerance, counter-terrorism, and comparative study of religions. He said that COSIS has the distinct honour of combining religious and contemporary sciences. He further said that Shaykh-ul-Islam Dr Muhammad Tahir-ul-Qadri revised and recompiled the religious curriculum of the last 273 years, adding that this curriculum is being taught at the religious seminaries under the banner of Nizam-ul-Madaris Pakistan. He said that we will have pay a conscious effort to changing the negative attitudes based on lack of tolerance and conservatism for the realisation of the dream of peace, prosperity and restoration of the lost glory of Muslims.