Dr. Hussain Mohi-ud-Din Qadri addresses closing ceremony of Al-Sohba Family Camp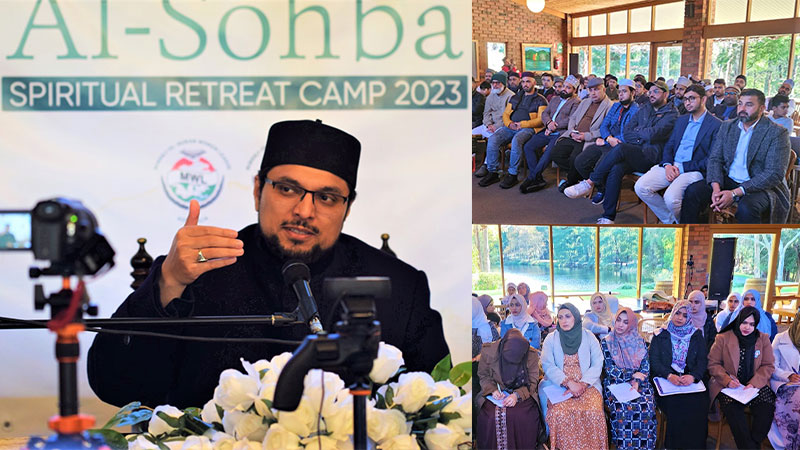 The closing ceremony of the Al Sohba Family Camp 2023 took place on Day 3 of the Camp and was graced by the presence of Prof. Dr. Hussain Mohi-ud-Din Qadri, who delivered an enlightening speech on Ahwal E Awlia and its practical implications in our daily lives.
During his speech, Prof. Dr. Hussain Mohi-ud-Din Qadri discussed the concept of Ahwal E Awlia, highlighting the exemplary lives and teachings of pious and saintly individuals throughout history. He emphasized the importance of drawing lessons from their experiences and incorporating their noble qualities into our own lives. The talk provided valuable insights on strengthening faith, increasing compassion, and maintaining a strong connection with the Divine.
Prof. Dr. Hussain Mohi-ud-Din Qadri expressed heartfelt congratulations to the Minhaj-ul-Quran Victoria team, particularly acknowledging the enthusiastic efforts of Rafiuddin Sahab and the young members who organized and executed a successful camp. He commended their dedication and urged them to continue their noble work in spreading knowledge and fostering a positive environment within the community.
To acknowledge the efforts and commitment of the participants, Prof. Dr. Hussain Mohi-ud-Din Qadri personally presented certificates of participation to each individual. This gesture not only recognized their active involvement but also encouraged them to continue their spiritual journey and apply the knowledge gained from the camp.