VIENNA: Shaykh-ul-Islam urges MQI workers to follow the exemplary life of the Holy Prophet ﷺ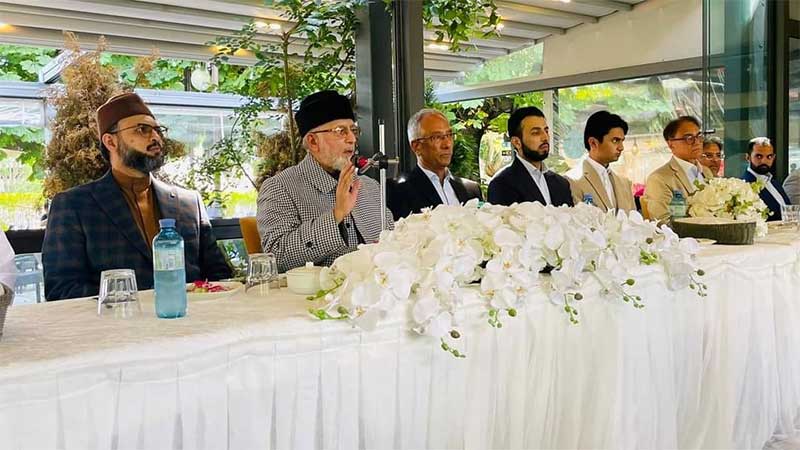 Establish a profound connection with Allah, align your life with the teachings of the Holy Prophet ﷺ, and offer sincere counsel to those around you. — His Eminence Shaykh-ul-Islam Dr Muhammad Tahir-ul-Qadri.
In Vienna, Austria, a tarbiyati session witnessed the gracious presence of His Eminence Shaykh-ul-Islam Dr Muhammad Tahir-ul-Qadri, accompanied by esteemed personalities such as Chairman Supreme Council, Dr Hassan Mohiuddin Qadri, President Minhaj-ul-Quran Women League International Dr. Ghazala Qadri, Shaykh Hammad Mustafa al-Madani al-Qadri, and Shaykh Ahmad Mustafa al-Arabi al-Qadri.
The event was further honored by the presence of the Ambassador of Pakistan in Austria, H. E Aftab Khokar, and Council General Shahzad, Chairman Pakistan Community Forum Austria Lala Muhammad Hussain & President Nadim Khan along with other designators of PCFA, Mian Khalil from Pak Austrian Association, Allama Abdul Hafeez Al-Azhari khateeb Islamic noor Center, Rathor Brothers, Aftab saifi from silsla azamia, Nasheed Sheryar Khan, Ghulam Mustafa Naeemi, Nadim Raza from Pak Lens Community and other Leading religious, political and business personalities of the Pakistani community. The central team of MQI Vienna extended a warm welcome to the distinguished guests, presenting them with flower bouquets as a token of respect.
The Patron-in-Chief of Minhaj-ul-Quran International, Shaykh-ul-Islam Dr Muhammad Tahir-ul-Qadri delivered an inspiring speech, urging the workers to embark on a journey of self-transformation. He emphasised the significance of dedicating one's heart to Allah, finding contentment in His Will, and embracing everything that pleases Him. The call to follow the exemplary life of the Messenger of Allah ﷺ echoed throughout his address, urging everyone to reflect the traits of the Holy Prophet ﷺ in their conduct, making others feel at ease and comforted in their company.
The session gathered dedicated workers, including Coordinator MQI Europe & UK Zill-e-Hassan, President Minhaj European Council, Bilal Uppal, Ejaz Ahmad Warraich, Babar Shafi Shaikh, Qaiser Najeeb, Sarmad Javed, President Majlis-e-Shura, Muhammad Asif, President MQI Austria, Shaikh Mehboob Alam, Umair Altaf, Zahid Chohan, Allama Mudassir Awan, Hafeez Ullah, Muhammad Ejaz, and Muhammad Arshad.
In recognition of MQI Vienna's unwavering dedication and remarkable contributions to the noble mission of Minhaj-ul-Quran, His Eminence Shaykh-ul-Islam Dr Muhammad Tahir-ul-Qadri personally presented them with a prestigious shield. Additionally, Allama Mudassir Awan was honoured with a well-deserved shield for his noteworthy achievement - the completion of his PhD at the University of Vienna, Austria, focusing on the topic of counterterrorism.