MYL France hosts transformative event for spiritual and moral development of young individuals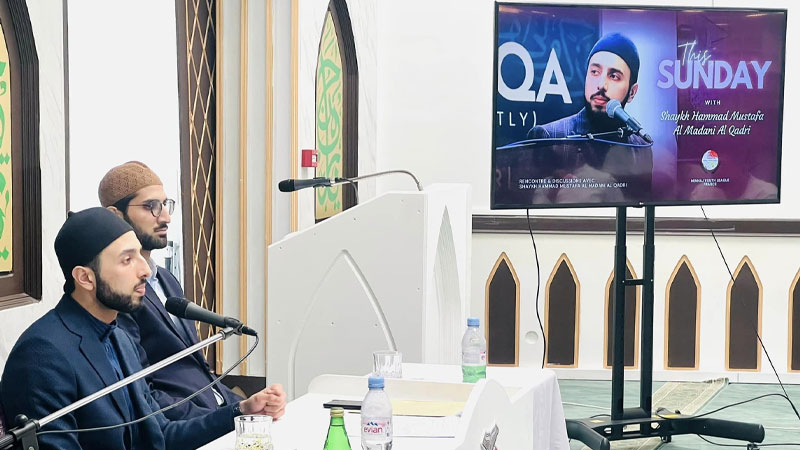 The Minhaj Youth League France orchestrated a transformative event for the spiritual and moral development of young individuals, held at MQI France's premises in La Corneuve, Paris. The esteemed Shaykh Hammad Mustafa al-Madani al-Qadri led the program, accompanied by Shaykh Ahmad Mustafa al-Arabi al-Qadri and Dr Hamza Z. Ansari.
The reception and hospitality were extended by Director of MQI France, Allama Hassan Mir Qadri, along with officials like Awais Mushtaq, President of MYL Youth Naeem Jaura, Usman Altaf, and others.
The program commenced with a recitation of the Holy Quran, followed by a soulful nashid performance by Amar Naeem. The proceedings were subsequently conducted by Adnan Abdul Waheed.
MYL France presented an overview of their recent endeavours, ongoing projects, and forthcoming plans. A comprehensive briefing was given about the recently concluded seven-week course in July 2023, as well as the upcoming course scheduled for September 2023. Shaykh Hammad Mustafa al-Madani al-Qadri commended the youth for their dedicated efforts.
While discussing the refinement of manners and virtuous conduct, Shaykh Hammad Mustafa al-Madani al-Qadri emphasised the significance of embracing humility, modesty, and meekness in our lives. He underscored that personal growth isn't dictated by titles or positions nor by individual endeavours. The more one embodies humility and selflessness, especially in the eyes of Allah, the higher one is elevated. Those who hold reverence for Allah continue to ascend. Allah, in His magnificence, bestows honour and distinction upon such individuals in both this world and the hereafter.
Concluding the event, Shaykh Hammad engaged with participants, offering them his blessings and heartfelt prayers.