Shaykh-ul-Islam graces developmental session for Minhaj-ul-Quran leaders in France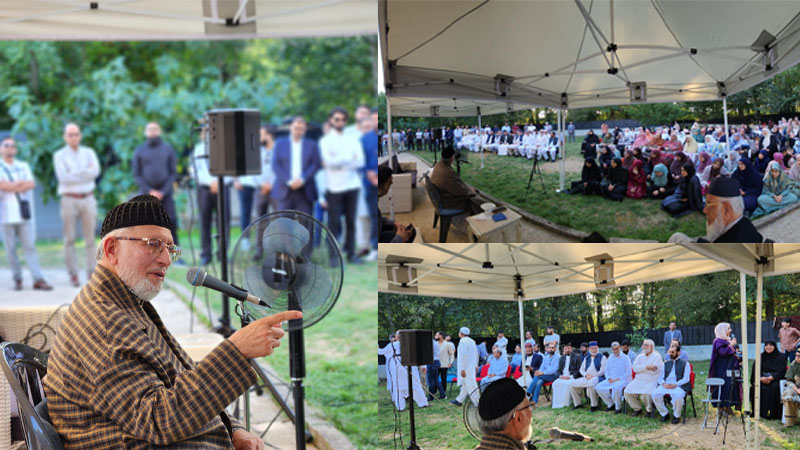 His Eminence Shaykh-ul-Islam Dr. Muhammad Tahir-ul-Qadri graced a developmental session for leaders and members of Minhaj-ul-Quran International in France.
Accompanying him during the event were Chairman of the Supreme Council, Dr. Hassan Mohiuddin Qadri, President Minhaj-ul-Quran Women League International, Dr. Ghazala Hassan Qadri, Shaykh Hammad Mustafa al-Madani al-Qadri, and Shaykh Ahmad Mustafa al-Arabi al-Qadri.
In his address to the training session, Shaykh-ul-Islam Dr. Muhammad Tahir-ul-Qadri, the Founder and Patron of Minhaj-ul-Quran International, emphasized the pursuit of nearness to Allah and His Messenger (PBUH), underscoring its immense reward. He pointed out that Allah, the Exalted, has ordained that His blessings and bounty are ultimately for the pleasure of the Prophet Muhammad (PBUH). This implies that those seeking Allah's closeness and affection should emulate the life, character, and actions of the Prophet (PBUH) in all aspects of their lives.
He highlighted that genuine servitude to Allah and the Prophet (PBUH), along with treating all creatures with kindness and giving them their due rights, constitute true politeness.
He further elaborated that through sincere devotion and understanding, an individual becomes beloved to Allah, and such devotion unlocks various opportunities.
The gathering also saw the participation of several esteemed individuals, including the Ambassador of MQI Europe Allama Nazir Ahmad Qadri, Dr. Faisal Khan, Dr. Hamza Ansari and others.
In recognition of the unwavering commitment and remarkable contributions of Allama Hassan Mir Qadri, the Director of MQI France, to the noble mission of Minhaj-ul-Quran, His Eminence Shaykh-ul-Islam Dr. Muhammad Tahir-ul-Qadri honored him by presenting a Gold Medal. This award was conferred by the Minhaj European Council.