MWF presents honorary award to Governor of East Java, Indonesia in the UK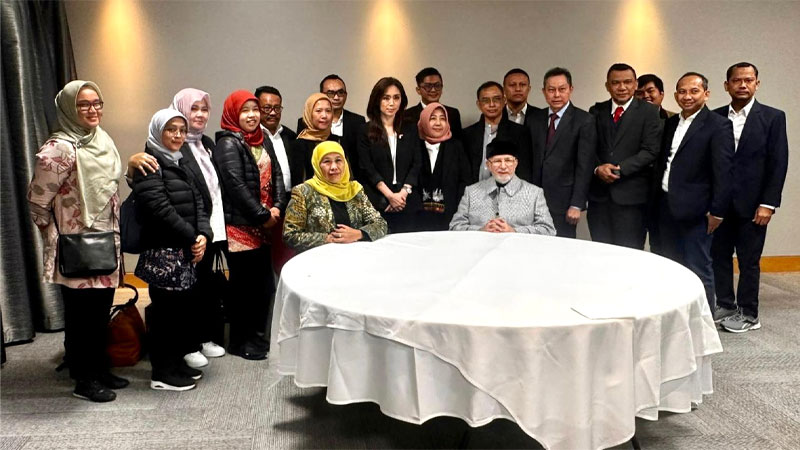 Minhaj Welfare Foundation recently awarded an Honorary Award to the Governor of East Java (second largest province) and Chairperson of the Female wing of the large Muslim organisation in Indonesia - Nahdatul Ulama - Khofifah Indar Parawansa.
The award was given to Ibu Khofifah at the Al-Hidayah 2023 conference at the University of Warwick, UK on Sunday 27 August 2023. The award recognised the efforts for her work on Global Peace and Women Empowerment in her role as Governor and Chairperson of NU. The Governor accepting the award thanked the Founder of Minhaj Welfare, His Eminence Dr. Muhammad Tahir-ul-Qadri for the invitation and time. Speaking to the audience, she said, "it is an honour to receive this award from the largest Muslim organisation in the UK. The award is a recognition of the work achieved over the past many years from the people of East Java."
Earlier on the Governor had a inclusive meeting with His Eminence, Shaykh-ul-Islam, Dr. Muhammad Tahir-ul-Qadri along with the delegation from East Java, Indonesia. The delegation included the Vice Rektors of University Airlangga and University Malang. Ivy Kamadjaja, Honorary Consul of East Java, British Embassy Jakarta and Erlin Pusiptasri of British Embassy East Java were also present at this occasion.
The visit of the delegation to the UK opened potential dialogue between Minhaj Welfare and East Java. An exchange program between Young scholars between the UK and Indonesia was discussed. Along with potential MoU between Minhaj University Lahore and some prominent universities in East Java.
Senior delegates from Minhaj Welfare Foundation and Minhaj-ul-Quran International UK were present including;
Faisal Hussain, Managing Director (MWF), Adnan Sohail, Director Operations (MWF), Syed Ali Abbas Bukhari, President (MQI UK) and Dr Zahid Iqbal, Director (Al-Hidayah).