Bahrain: Dr. Hassan Mohiuddin Qadri Visits Dr. Murad Abdulla Al Janabi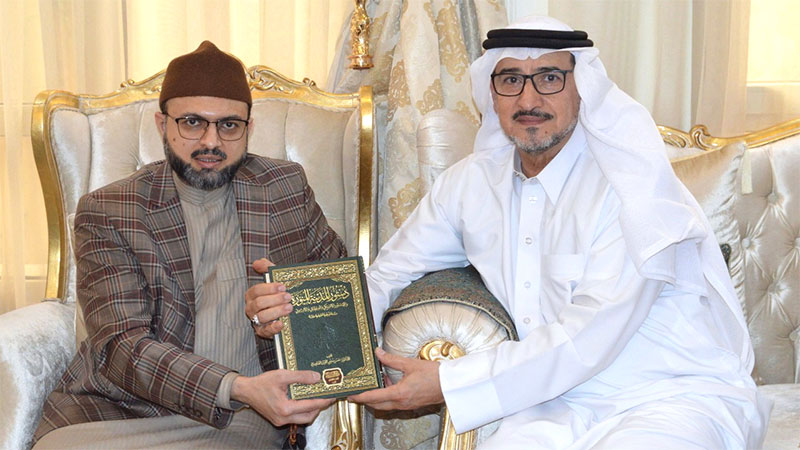 Dr. Hassan Mohiuddin Qadri, the Chairman of the Supreme Council of Minhaj-ul-Quran International, paid a visit to the residence of Professor Dr. Murad Abdulla Al Janabi in Arad. Dr. Murad is a Professor in the Department of Public Law at Applied Sciences University. He received a warm and gracious welcome at the residence.
During the visit, Dr. Murad expressed his deep respect and affection for Shaykh-Ul-Islam Dr. Muhammad Tahir-ul-Qadri and his services to the Muslim Ummah, highlighting his pedagogical and spiritual consciousness. Dr. Hassan Qadri commended Dr. Murad's courteous and friendly demeanor. He also presented Dr. Murad with his book on "Mesaq e Madina" and provided a brief overview of the book.
Additionally, Dr. Murad shared a Naat-Al-Rasool (SAW) penned by Sheikh Abdul Qadir Jeelani (RA), which touched the hearts of those present. Dr. Hasan Qadri extended a warm invitation to Dr. Murad to visit the Minhaj-ul-Quran center in Lahore.
Lastly, Professor Dr. Murad kindly gifted Dr. Hasan Qadri some of his own authored books on Uloom fil deen, deepening the exchange of knowledge and respect.