London: Prof Dr Hussain Mohi-ud-Din Qadri speaks on "The Growth of Islamic Finance: Future Prospects and Challenges"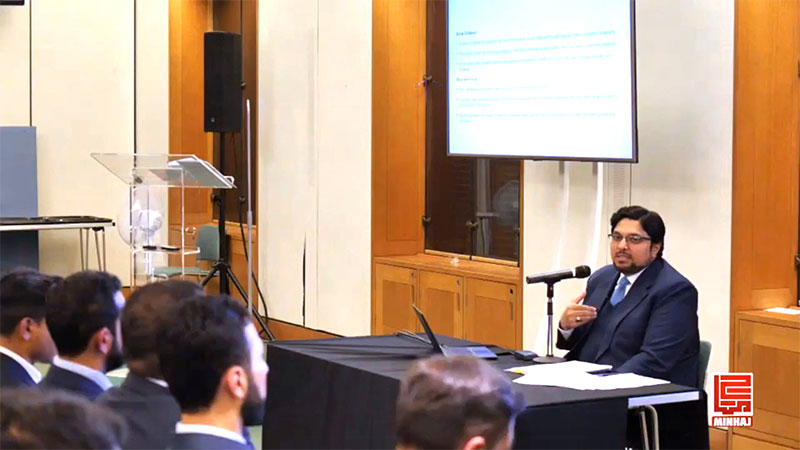 London: Professor Dr. Hussain Mohi-ud-Din Qadri, President of Minhaj-ul-Quran International and Deputy Chairman of the Board of Governors at Minhaj University Lahore, was a prominent participant at a seminar. He delivered a keynote lecture on the subject of "The Growth of Islamic Finance: Future Prospects and Challenges." This notable event took place within the hallowed halls of Westminster (UK Parliament), graciously hosted by the All-Party Parliamentary Group (APPG) on Islamic & Ethical Finance.
This seminar marked a significant milestone as it was the very first time that the British Parliament, specifically the House of Commons, hosted an event focused on Islamic finance. The decision to host this seminar reflects the UK government's and various institutions' keen interest in promoting Islamic finance and creating a favorable environment for Islamic banking and finance.
Shaykh Hammad Mustafa al-Madani al-Qadri accompanied him at the event.
During his lecture Prof. Dr. Hussain Mohi-ud-Din Qadri highlighted that when we examine the current economic system, capitalism, its widespread reliance on a trust-based financial system involving charging and paying interest on loans and debts has resulted in a cycle of debt that ensnares individuals, businesses, and even governments worldwide.
While discussing the socialist economic model, Dr. Hussain Qadri pointed out that, although socialism aims to reduce inequality, it can sometimes encounter issues related to innovation and productivity. In many countries that adopt socialism, we have observed that this economic model hasn't consistently proven to be a better alternative to either a capitalist or an interest-based economic system. Socialist countries may excel in providing social justice and equality to their citizens at times, but they often struggle with lower productivity, economic management, and wealth generation.
Dr. Hussain Qadri emphasized the importance of considering an alternative approach, specifically the Islamic economic system, which is rooted in a strong ethical and moral foundation derived from the Quran, Sunnah, and Shariah. This system places great emphasis on principles such as fairness, justice, compassion, and a genuine concern for the well-being of society as a whole. The ethical foundation of the Islamic economic system serves as a means to ensure that economic activities are conducted with a deep sense of responsibility and accountability. These foundational principles are often lacking in other prevailing economic systems in the world, such as capitalism and socialism.
One of the distinctive features of the Islamic economic system, when compared to capitalism and socialism, is the presence of built-in social safety nets. These include mechanisms like Zakat and Waqaf, which are charitable endowments designed to provide a safety net for those less fortunate in society. These elements contribute to the social and economic welfare of the community, setting the Islamic economic system apart from others.
It was great to hear from a coterie of eminent thought leaders across various spheres, including, Naz Shah MP, Chair of the All-Party Parliamentary Group on Islamic & Ethical Finance, Afzal Khan MP, vice-chair of the All-Party Parliamentary Group on Islamic & Ethical Finance, Bilal Hafeez, Chief Executive Officer of Macro Hive, Dr. Tatjana Greil Castro, Global Co-Head of Public Markets at Muzinich & Co.
Guests in attendance included, Anum Qaiser MP, Charles Haresnape, Chief Executive Officer of Gatehouse Bank, Imran Pasha, Chief Operating Officer of Al Rayan Bank, senior representatives from Lloyds, PWC, KPMG, EY, Deutsche Bank, Credit Suisse, LinkLaters, Shell, BP, Glencore, Chevron, Boston Consulting Group, Financial Times as well as those from various other leading financial, legal, political and economic backgrounds.
The deliberations at this event served to underscore the critical need for evolution and innovation within the Islamic finance sphere.
The keynote followed by an engaging Q&A session and there were calls for a follow up and further in depth discussions with Dr. Hussain Qadri to progress initiatives of Islamic Finance.