Canada: Shaykh-ul-Islam attends Ghous-ul-Azam Conference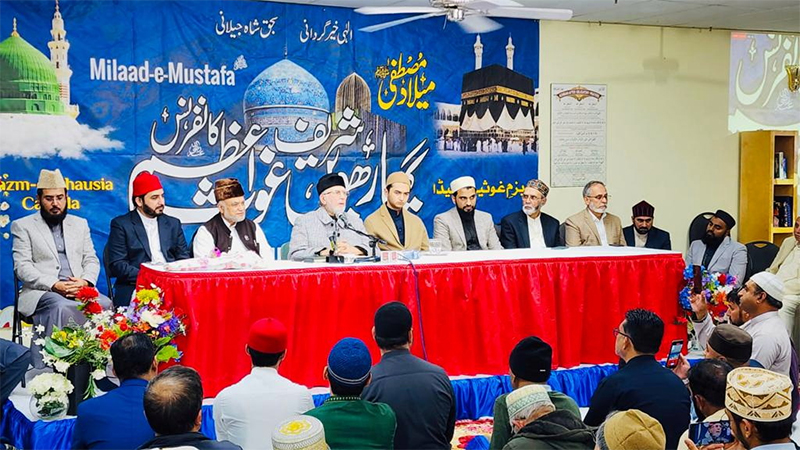 MQI founding leader Shaykh-ul-Islam Dr. Muhammad Tahir-ul-Qadri attended an annual Ghous-ul-Azam Conference held in Mississauga Muslim Community Center, Canada where he threw light on some of the rare aspects of the Saint's life. He said Ghous-ul-Azam Sayyiduna Shaykh Abdul Qadir Jilani (RA) spent a life in the acquisition of knowledge. He said it was the time when Baghdad was a hub of knowledge and high culture. His mother sent him to Baghdad at the age of 18 for learning. He (RA) spent 20 years acquiring knowledge. He said that his title of "Ghous-ul-Azam" emanated from the manner of his acquiring knowledge. He said that he was given the title "Mohi-ud-Din" due to his meritorious services for the revival of religious values.
Shaykh-ul-Islam said that Sayyiduna Shaykh Abdul Qadir Jilani (RA) had a multifaceted personality. He was simultaneously a teacher, spiritual guide, mentor, jurist, Mohidus, Sufi, Mufti, saint, and people-friendly leader. His teachings urged the people to get rid of their inflated ego, for the Sufis would also meet people, and share their sorrows and grief. They would also teach their followers about the same. He said there is no place of arrogance, conceit and bitterness in spiritualism. "The way to get out of the quagmire of these social and spiritual ills is through the path of spirituality," he said. The Holy Prophet (PBUH) also imparted a lesson of sacrificing one's ego in favour of human compassion and empathy.
A large number of people belonging to the community including MQI leaders attended the ceremony. Sahibzada Shaykh Ahmad Mustafa al-Arabi al-Qadri also joined the ceremony as a special guest.