NEC Delegation visits MQI-Glasgow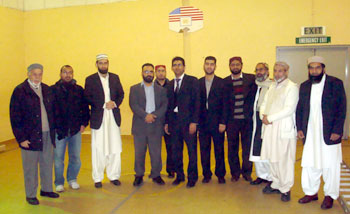 On Sunday 26th October 2008, the MQI National Executive Council (NEC) UK delegation visited newly purchased centre by MQI Glasgow. The NEC delegation was accompanied by Ameer Tehreek (MQI-Glasgow) Allama Shahid Babar Khan Sahib, President (MQI Glasgow) Haji Abdul Wahid Raza Sahib and many other local members of MQI-Glasgow.
The NEC delegation congratulated and appreciated the efforts of MQI-Glasgow and made Dua'a for their success. The delegation was presented with Traditional Sweets by Haji Muhammad Akhtar Sahib.
The delegation also assured MQI-Glasgow that we will provide maximum support to MQI-Glasgow where needed.