Establishment of New Branch of MQI at Mauritius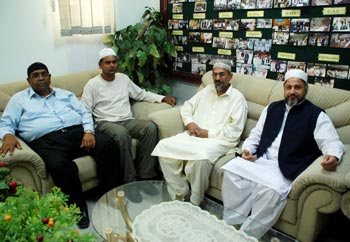 Visit of Mr. Maqsood Shah (President MQI-Holland), Unwar Subadar Agathee (Organizer MQI-Mauritius) and Abdool Sakeer Haulkhory (Dep. Organizer MQI-Mauritius) to Central Secretariat.
Mr. Maqsood Shah (President MQI-Holland) Unwar Subadar Agathee (Mauritius) Abdool Sakeer Haulkhory (Mauritius) have paid their gracious visit the central headquarters of Minhaj-ul-Quran International. This is also a matter of immense pleasure that another branch of MQI has established in Mauritius. Initially Mr. Unwar Subadar Agathee and Mr. Abdool Sakeer have been appointed as Organizer and Deputy Organizer of MQI-Mauritius. At the time of taking life membership from distinguished guests, their appointment letter have also been issued and presented to the new bearers of MQI-Mauritius. Director Foreign Affairs G.M.Malik received the guest warmly and gave them brief discussion regarding the on going activities and offices of Central Secretariat. Afterwards, the respected guests visited the different directorates and offices of central secretariat accompanied by Director Foreign Affairs G.M.Malik and Secretary Protocol DFA Rana Nafees. They were being informed regarding the different activities carrying on the headquarter. Distinguished guests appreciated the working management of central secretariat and hoped that all the executive members and worker of secretariat shall continue their efforts for his holy mission with same passion and zeal.
New office bearers of MQI- Mauritius pledged that they shall impart their historical role to establish Minhaj-ul-Quran international at Mauritius and promote its message of peace under the dynamic leadership of Huzoor Shaykh-ul-Islam Prof. Dr. Muhammad Tahir-ul-Qadri .
They also vowed to join hands with in efforts of MQI for renaissances of Islam by presenting the true and scientific picture of Islam and by promoting peace and inter-faith dialogue and harmony and persuading the people to establish their connection with Allah (SWT), with Holy Prophet Muhammad (Sallallahua Alaihi Wa'aalihi Wasallam.) and with Holy Quran.