Workers Convention Minhaj-ul-Quran International Norway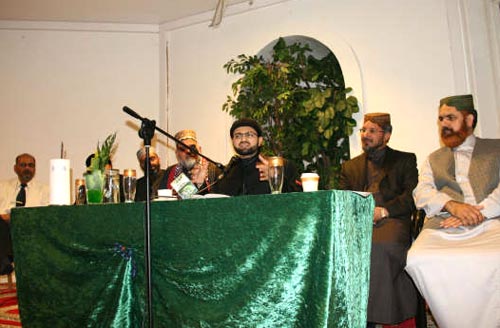 Minhaj-ul-Quran International Norway organized Workers' Convention on Saturday 29th of November 2008. Respected son of Shaykh-ul-Islam Dr Muhammad Tahir-ul-Qadri, President Supreme Council MQI Sahibzada Hassan Mohi-ud-Din Qadri was the guest of honour. The Convention was attended by a large number of workers of MQI.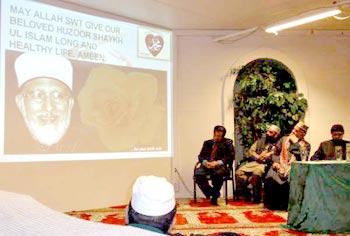 The formal proceedings of the Workers' Convention got under way with the recitation from the Holy Quran by Hafiz Abdur Rehman Iraqi. Allama Noor Ahmad Noor and Abdul Manan recited Naat in the honour of the Holy Prophet (saw). Every forum of MQI Oslo, Minhaj Women League, Minhaj Conflict Resolution, Minhaj Brothers, Minhaj Sisters and Minhaj Education presented their introduction and annual performance report. Special awards and appreciation certificates were given away to members and forums of MQI Norway.
Special Awards
Ameer Euorpian Council Allama Haasan Meer Qadri received 2 awards for his better services in Europe and Norway.
Director MQI Norway Allama Noor Ahmad Noor was awarded for his services as director of MQI Norway.
Minhaj-ul-Quran Women League Norway was awarded for supporting continously Sayyida Kainaat Conference which is held in Pakistan every year.
Hafiz Abid Kashmiri Director MQI Stavanger (another city of Norway) was awarded for his brilliant services for MQI Stavanger.
Appreciation certificates were awarded to
Minhaj-ul-Quran Women League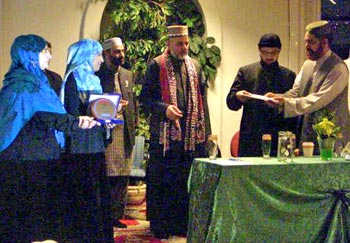 Respected Salma Zaffar, Razia Meer, Rafia Rauf, Shafqat Parveen, Rukhsana Butt, Samina Bhatti and Noshaza Hussain.
Misha Hussain, Zunera Mushtaq, Sadia Mushtaq, Iqra Mushtaq, Iqra Iqbal, Sidra Iqbal and Aisha Noor.
Atif Rauf, Hassan Naveed, Safian Raja, Umar Ansari and Usman Shaikh.
Affiliates for their services and corporation
Shehnaz Butt, Shehnaz Noor and Ghazala Jamil.
Faiz Alaam, Ijaz Khushi, Shakeel Ahmad , Zaffar Iqbal Sayyal, Shaikh Tariq Mehmood, Irfan Ansari and Farooq Ansari.
Addressing the Convention, President Supreme Council MQI, Sahibzada Hassan Mohi-ud-Din Qadri, said that he was happy to see such a phenomenal progress various forums have made in Norway. He declared a special award for Minhaj Conflict Resolution.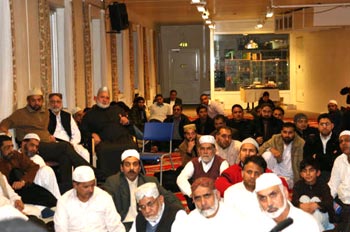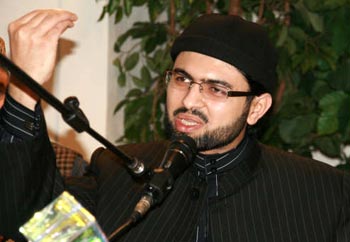 He said Allah Almighty has blessed Shaykh-ul-Islam with all those attributes which are sufficient to recognize the spiritual stature and standing of every friend of Allah. He said Shaykh-ul-Islam is a source and paragon of love and peace who has endeavoured his whole life to replace hatred with love. We have a leader for whom we can't find a single example in this earth at the moment. He is perfect in every aspect. All the colours of the Holy saints and Holy ulamaa are gathered in his holy personality. His every deed and his every act, the way he talks, his smile, his forgiveness, his mercy is according to the Sunnah, teachings of The Holy Prophet (saw). The need of today is to be loyal and faithful to our great Leader and to our mission and to spread his message. The message of peace, interfaith, love and harmony the real message of Islam. The Convention came to end with Dua led by Sahibzada Hassan Mohi-ud-Din Qadri.
Reported by: N.H.Q & U.H.Q, MWL Dawah & Tarbiyah, Norway