Annual Health Seminar MWL Norway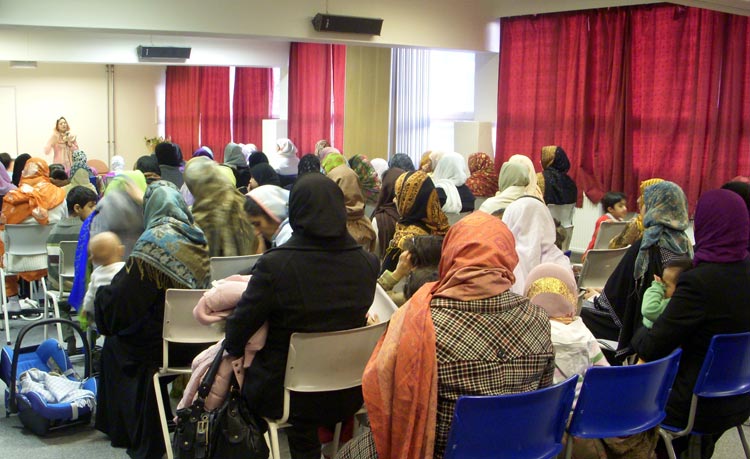 Minhaj Women League Norway successfully conducted their annual health seminar in Oslo 23 November, 2008.

Talawah: Sister Maryam
Nasheeds: Sheema Naat Counsil
Guest Speakers: Dr Huma Latif & Dr Uzma Malik
Stage Secretary: Respected sister Shafqat Parveen
Salaam & Dua: Secretary Dawah & Tarbiyah Sister Safia Ashfaq
Organised by: Minhaj-ul-Quran International Women League Norway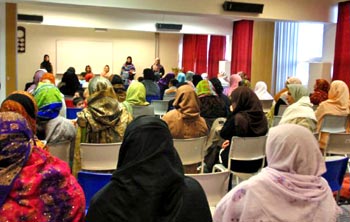 The topics for the health seminar were psychiatry and overweight.

A large number of women wanted to learn more about diseases, symptoms and treatments in their own Urdu language. At 14:30 the room was almost filled to its maximum capacity

The programme started with the recitation of the Holy verses along with praise to Rasool Allah Sallalahu Alayhi Wa Salim .

Respected sister Shafqat Parveen, vice president MWL performed her duty as stage secretary. After welcoming the audience the special guests, Dr Huma Latif, Dr Uzma Malik and MWL president Rafia Rauf were introduced and asked to take their seats on the stage.

Sister Shafqat Parveen told the participants about the importance to take care of our own health and that it is an Islamic duty to do so. She invited Dr Huma Latif to start to inform the guests about psychiatric health. Dr Huma focused mainly on depression and the reasons for depression, what can be done to avoid depression and what to do if symptoms of depression occur. The women listened carefully to Dr Huma's interesting information about the topic.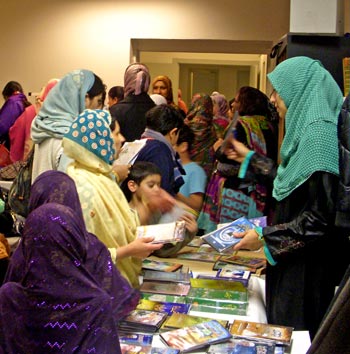 After Dr Huma's session, Sheema Naat Council recited a beautiful nasheed with duff in the praise of Rasool Allah Sallalahu Alayhi Wa Salim . Then Dr Uzma Malik was invited to talk about overweight and problems related to overweight .She told about Body Mass Index, BMI, and gave examples on overweight and underweight. She threw light upon the causes of heavy weight and its effects on our daily life. She showed some examples of traditional Pakistani dishes like biryani etc and how much exercise that is necessary to consume it.

There were a question and answer session and the women utilized the possibility to ask their questions in Urdu language.

There was also a stall set up by MWL Dawah and Tarbiyah group consisting of books/lectures of Huzoor Shaykh-ul-Islam Dr Muhammad Tahir-ul-Qadri.

President MWL Respected Rafia Rauf gifted books of Hazoor Shaykh-ul-Islam and flower bouquets to Dr Huma Latif and Dr Uzma Malik. The Seminar came to end with dua and Salaam to Rasool Allah (saw) led by Dawah & Tarbiah secretary sister Safia Ashfaq.

The seminar was Alhamdulillah very successful. MKF received positive feedbacks from the doctors. They emphasized the necessity to arrange such seminars to inform women and especially Pakistani women living in Europe about diseases and what kind of help and treatment that is available.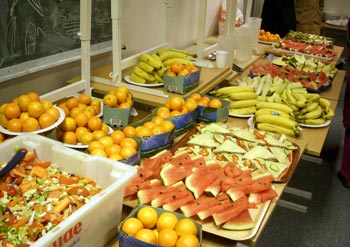 Dr Huma Latif said it was a new experience for her to conduct speech on this topic in Urdu language in Norway. She realized the enormous need for this kind of information in Urdu language for the Pakistani women. She suggested that such health seminars should be arranged more often.

Dr Uzma Malik thanked MWL for inviting her. She admitted that it is a good effort from the MWL for organizing such kind of programme. She also admired the Darse Quran, Darse Hadith and Fiqah Classes which are running at the moment under Minhaj Women League Oslo which has inspired her much as she is attending the classes regularly from last year. She told the gathering that life has become much easier for her after joining these classes, she also advised the gathering to join the classes because its very important for us to learn the Holy Quran, Hadith and Fiqa in proper way.

Reported by: N.H.Q and U.H.Q, MWL Dawah & Tarbiyah, Norway