Israel violating international laws & conventions with abandon: PAT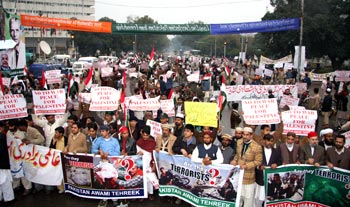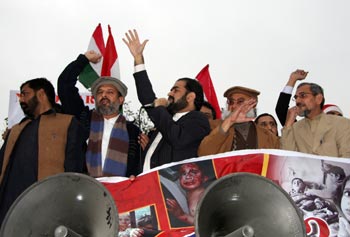 Attended by thousands of people belonging to different walks of life, Pakistan Awami Tehreek organized a demonstration from the Lahore Press Club to the Assembly Hall to protest against the ongoing terrorism of Israel, double standards of world powers and indifference of the rulers in the Muslim world. PAT President Fairz-ur-Rehman Durrani, Dr Raheeq Ahmad Abbasi, Sheikh Zahid Fayyaz, Anwar Akhtar Advocate, G.M. Malik and Sardar Mansoor Ahmad Khan led the rally. The participants of the rally were carrying banners and placard upon which slogans against Israeli aggression were written.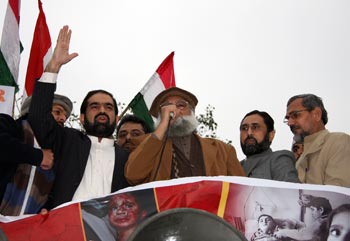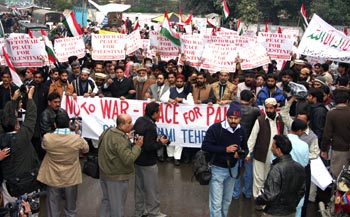 Addressing the thousands of people, Nazim-e-Ala Dr Raheeq Ahmad Abbasi said that those observing silence at the state terrorism should end their double standards. Eleven hundred Palestinian Muslims have been martyred in a course of a few days and the international community remained unmoved. He said that the double standards of the world community were encouraging Israel to violate international laws and conventions with abandon. He also criticized the OIC in failing to act to generate collective response to the massacre of the Muslims in Palestine.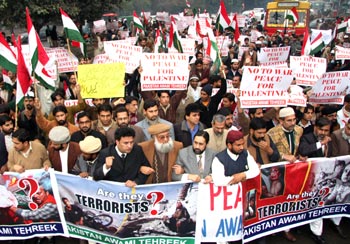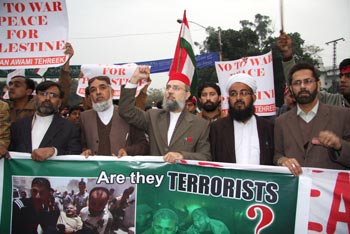 PAT President Faiz-ur-Rehman Durrani said in his address that the continuation of the Israeli terrorism was an act of open war against the humanity. It was high time that the international community took notice of these atrocities being committed by Israel in the interest of global peace and harmony. Naib Nazim-e-Ala Sheikh Zahid Fayyaz said that the Palestinian issue left a question mark on the international conscience. It was not confined to any particular religion or nation because it involved the right to self determination as admitted by the UN through a score of its resolutions upon which Israel had turned its back. Anwar Akhtar Advoate said that Israel through unprovoked aggression against the innocent Palestinians had become the centre of global hatred. It threatened the international peace and order through its cruel actions. He demanded of the international community to find a negotiated settlement of the issue without further loss of time and punish Israel for its state terrorism.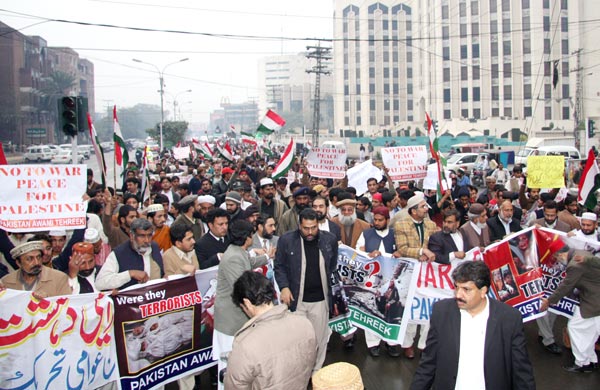 Central leaders G.M. Malik and Sardar Mansoor Khan said that the Israeli barbarism had put a question mark over the relevance of UN and other international institutions meant for conflict resolution. They said that more was on stake than met the eyes. They sought an immediate end to the Israeli attacks through the involvement of international community.