Celebration of Mawlid-un-Nabi (SAW) in Copenhagen (Denmark)
To crow of creation set with richest gems
Diamonds and rubies in value beyond ken
Unequaled in brilliance, unique of kind
Are thou, O Great Prophet! To all man kind
Reported by: Asifa Uppal
Programme: Naat Competition
Venue: Nrrebro Hall
Date: 2nd may (12 Rabi-ul-Awal)
Programme Organizers: Women/Youth league
Presented by: Tasmiah Zubair, Iram Uppal
Judges by: Farhat Qadri, Shamem, Rehaana Saddiq
Women youth league has through out the years been arranging their programs in Idara Minhaj-ul-Qur`an Valby (DK). But this year the Mawlid-un-Nabbi program was held in Nrrebro hall, a new change which was highly appreciated by everyone. There was large attendance of approximately 1000 of youth/women who were gathered to participate in the program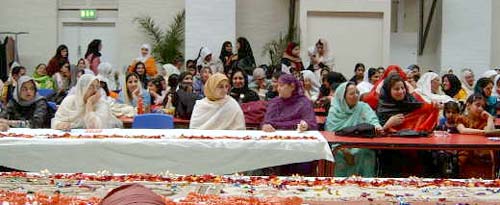 The second new change to the programme was a big naat/nasheed competition held in 4 different categories in preference to the scholars speeches. About 85 participants took part in the naat competition/event with great enthusiasm and eagerness.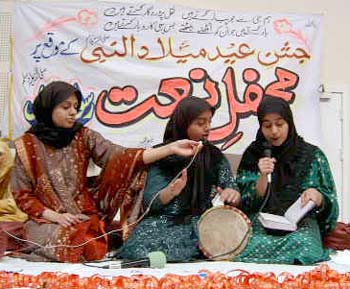 The 4 categories were:
Group 1: Junior 7-13 years.
Group 2: Junior/senior 14-18years.
Group 3: 19-30years.
Group 4: A group of naats across all ages.
The program began after Dhohur prayer with recitation of the Holy Quran by Qaria Nusrat Bukhairy along with the Qaseeda Burdah Sareef by the youth group and praises to the Holy Prophet (SAW) Islamic songs/nasheeds were also sung by Shama Munawar, Shazia Jabar and Kokab Uppal in the end of every group performance.
The President of the women league Sister Nafees Fatima gave an introductory message of the Mawlid-un-Nabbi. She explained that our children in Denmark are all informed about Christmas and almost every child has knowledge of the birth and life of Sayyidina Isa (a.s) , and thus as a Muslim mother, and teacher our obligation is to generate a sensibility of love and closeness to Holy Prophet (Saw) between our children. Shama Zahoor the Coordinator of the Sisters Youth league conveyed the message of the Minhaj-ul-Quran Mission and highlighted the activities that are run in the Idara for the youth and invited them to bond together with the great Tehreek.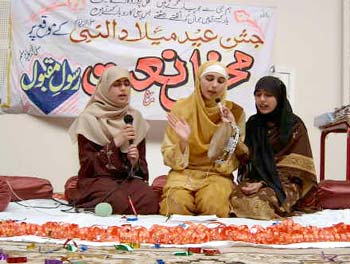 All presents were distributed by Chief Guest Mrs. Javaid Qureshi from the Pakistani Embassy in Denmark at the end of the programme including sweets which were distributed among all children during the programme. The programme ended with salaam on beloved Prophet (Saw) and Dua.
For the success of the program the women/youth league made personal contacts to everyone along with advertisements handed out to numerous shops, advertisements made on the youth website and advertisements given on the television. For their great efforts we are deeply indebted to all sisters who helped us in managing this splendid event. We pray to Allah subhanahu Wa Tala to reward them and help them achieve success in their life and hereafter, Amen.