MQI (Rogaland) demonstration against Israeli barbarism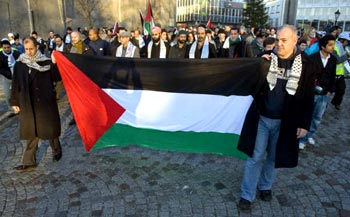 MQI (Rogaland) chapter organized a peaceful demonstration against Israel for its unprovoked atrocities on the innocent Palestinians. Amir of MQI Hafiz Abid Kashmiri, central leader Ijaz Samer and the leaders of Islamic parties led the demonstration. Hundreds of people including local Norwegians also participated in the demonstration.
The speakers condemned Israel for the use of brute force over innocent Palestinians and demanded an immediate halt to the atrocities. They said the champions of the world peace would have to shun their double standards. They also urged the international community to find a permanent solution by establishing an independent Palestinian state.