Shaykh Ahmad al-Habbal al-Rifa'I (the great Salihin of Damascus) passes away
It is sadly informed that Shaykh Ahmad al-Habbal al-Rifa'I (the great Salihin of Damascus) passed away to the endless Mercy of his Gracious Lord.
INNA LILLAH E WA INNA ILAHE RAJAOON.
"Surely we are Allah's and to Him we shall surely return."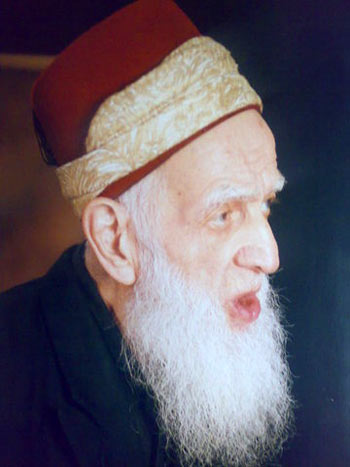 Shaykh Ahmad was one of the senior most and the most respected scholar of Damascus. He was over 100 years old and was still leading a public dhikr gathering every Friday.
The great Shaykh had devoted his entire life to spreading the love of Rasulallah salallahu alayhi wa ala alayhi wasallam. Every day after Fajr prayers, he would offer 100,000 salawats in a majlis alan nabi.
Shaykh-ul-Islam Dr. Muhammad Tahir-ul-Qadri has expressed his grief and deep sorrow over the passing away of Shaykh Ahmad al-Habbal al-Rifa'I and condoled with his family. Shaykh-ul-Islam said that the great Shaykh's whole being was characterized by the love for the Holy Prophet (saw). He prayed to Allah Almighty to rest the departed soul in peace and confer on the final dwelling and resting place closer to the Holy Prophet's (SAW).
Member Supreme Council of MQI Sahibzada Hussain Mohi ud Din Qadri, Ameer Minhaj-ul-Quran International Sahibzada Miskin Faiz-ur-Rahman Khan Durrani, Nazim-e-Aala Dr. Raheeq Ahmad Abbasi, Naib Nazim e Aala Sheikh Zahid Fayyaz, Director Foreign Affairs, G M Malik, Secretary General Pakistan Awami Tehreek, Anwar Akhtar Advocate, Director Media and Public Relations, Mian Zahid Islam, Ameer-e-Punjab Ahmad Nawaz Anjum, Nazim Youth, Sajid Mahmood Bhatti, Deputy Director Minhaj Internet Bureau Abdul Sattar Minhajian, Deputy Director FMRi Muhammad Farooq Rana and all other central leaders of Minhaj-ul-Quran International have also expressed their grief and sorrow over his death.
May Allah bless his soul and enable us to benefit us from his noble example, sincerity, generosity, his humility, simplicity and his great love for Allah's Beloved – sallaLlahu `alayhi wa sallam – and grant him the highest station in the Divine Presence. (Al-Fatiha)