Milad-un-Nabi Program Oldham, England
By. Saba Mustafa Khan
Oldham Minhaj-ul-Qur`an Women and Youth Sisters League organized a program celebrating the month of Rabi-al-Awwal.
The program was en-titled:
A day in the Remembrance of the Holy Prophet Muhammad (saw)
Date: Sunday 23rd May 2004
Venue: Pakistani Community Centre/ Glodwick/ Oldham
Start: 1.00pm
Finish: 5.00pm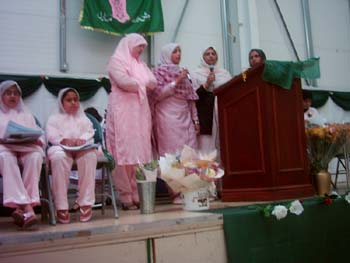 The youth sisters read nasheeds/naats and did short talks in English on the life, status and seerah of the Holy Prophet (saw). The host of the program was sister Saba Mustafa Khan, president of the Sisters Youth League, who conducted the program both in English and Urdu. The guest speaker was Sister Asma Alim from Manchester and Sister Rukhsana Mustafa Khan headed the event and was the main organizer on behalf of the Women League.
Alhumduliah the program was a great success, being the second one this month and was attended by a many sisters, young and old!