MQI Austria celebrates birthday of Shaykh-ul-Islam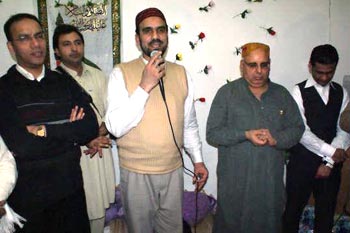 Minhaj-ul-Quran International (Austria chapter) organized a prestigious birthday ceremony of Shaykh-ul-Islam Dr Muhammad Tahir-ul-Qadri on February 19, 2009. The ceremony took place at the residence of Haji Ghazanfer Mushtaq, an old member of MQI, which was attended by Allama Hafiz Abdul Hafeez al-Azhari, Hafiz Gulzar Ahmad, Malik Muhammad Shafique, Malik Muhammad Amin Awan, Nasim Malik, Chaudhry Muhammad Asif, Muhammad Akram Bajwa, Muhammad Bashir Nasir, G.M. Minhas, Rana Abdul Salam, Muhammad Shaharyar Khan, Siab Ahmad, Syed Muzaffar Hussain Shah, Kashif Mahmood, Ali Shah, Haji Ghuzanfer Mushtaq, Haji Ali Sakhawat, Anwar Ali, Haji Altaf Hussain, Ali Arshad, Zulifqar Ali, Umair Altaf, Ali Irshad, Malik Ijaz Rasheed, Malik Jawad Rasheed, and other people of the Muslim community.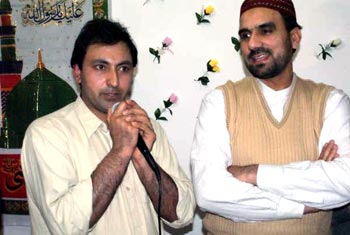 The proceedings of the ceremony got under way with recitation from the Holy Quran followed by Naat. Amir of MQI Hafeezullah Khan said that a true worker of Minhaj-ul-Quran was the disciple of Hazoor Gous-ul-Azam and recipient of his special spiritual blessings. Muhammad Naeem Raza, Nazim of MQI Austria, said in his talk that Shaykh-ul-Islam Dr Muhammad Tahir-ul-Qadri's work on Hadith was marvelous as no one undertook this arduous task in this manner in the past. He said it was due to depth of knowledge of Dr Muhammad Tahir-ul-Qadri and his scholarly contributions that people chose the title of Shaykh-ul-Islam for him and hundreds of thousand of people loved and followed him as their undisputed leader.
Khawaja Muhammad Naseem, president MQI Austria, thanked the participants for taking part in the ceremony. The programme ended on special Dua for long life of Shaykh-ul-Islam Dr Muhammad Tahir-ul-Qadri.