Sahibzada Hussain Mohi-ud-Din Qadri Meets British Department of Communities and Local Government
Sahibzada Hussain Mohi-ud-Din Qadri, the son of Shaykh-ul-Islam Dr Muhammad Tahir-ul-Qadri, was invited in London to share his views with the Department of Communities and Local Government (DCLG) on 25th February 2009. The purpose of the meeting was to help the British Muslim community.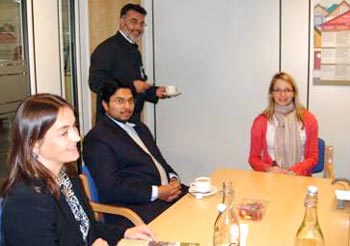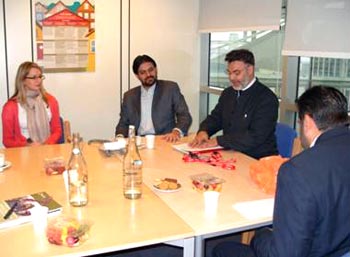 Maqsood Ahmad OBE (standing left) who is senior Advisor on Islamic Affairs and Interfaith to Department chaired the meeting and expressed his pleasure at hosting such a prominent scholar who is the son of the Shaykh-ul-Islam of the time.
Hussain Mohi-ud-Din Qadri is seen above flanked by the leading figures of the DCLG present, Liz Sleeman (left) the deputy head of the Preventing Extremism Unit and Jane Everton (right) Deputy Director of the Faith and Cohesion Directorate who both also expressed that they felt truly privileged and honoured by Hussain Mohi-ud-Din's participation in their meeting.
The meeting was arranged by this government body to take advice and formulate new strategies to make Muslims more prominent in society and tackling extremism.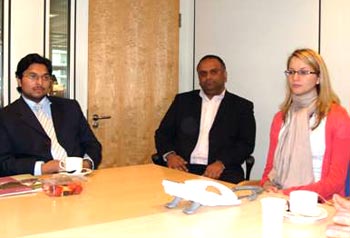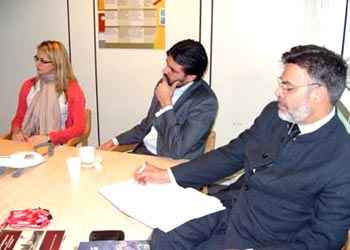 They were later joined by Azhar Ali (above, middle), who is senior advisor to Rt Hon Hazel Blears MP – Secretary of State for Communities and Local Government.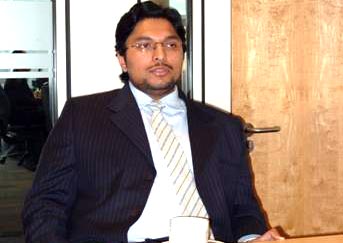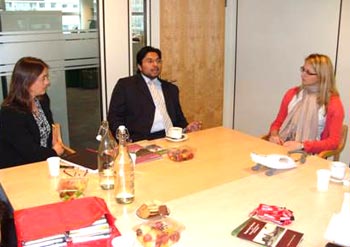 Hussain Mohi-ud-Din's discourse highlighted the importance of having more British born and bred trained imams and scholars for the guidance of Muslim youth. This, he explained, is because these imams would be able to communicate better with the newer generation having been brought up in the country. He also suggested that courses should be setup to train existing imams in the English language, communication skills and certain aspects of sociology to help them become more accessible to the community. He said that the doors of Minhaj-ul-Qur'an International are open to help with these ideas.
He highlighted the problems of extremism and provided solutions in the form of detailed guidelines and procedures. He listed the causes leading to terrorism and pointed out that it was up to both Muslims and non-Muslims to work together to tackle it. "Even if the ordinary village imam is seen as being unaware of the modern world and somewhat old fashion… at least he will try speaking to you with his mouth and not with a gun."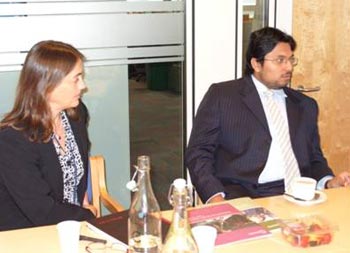 The gathered also appreciated and lauded the efforts and works of Minhaj-ul-Qur'an International in Pakistan for welfare work and interfaith harmony.
The meeting ended with Hussain Mohi-ud-Din Qadri presenting the gathered with 2 books he had recently written:
1. Sugarcane Ethanol as an Alternate Fuel Source for Pakistan is a research-based work, which tends to explore sugarcane ethanol as viable energy source.
2. SAARC & Globalization: Issues, Prospects and Policy Prescriptions; This throws light on the various aspects of globalization in relation to SAARC.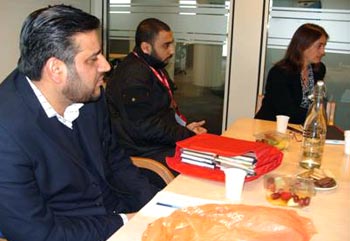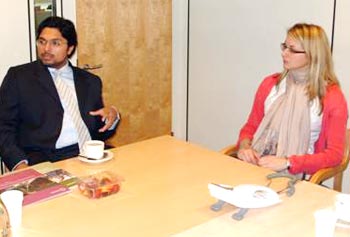 The meeting ended with key initiatives noted to help British Muslims go into further education and more skilled jobs.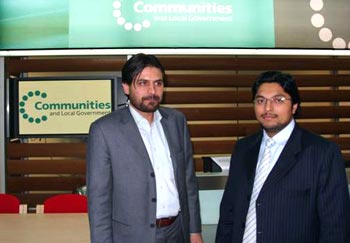 Hussain Mohi-ud-Din Qadri (right) with Dawood Hussain Mash'hadi
of Minhaj-ul-Qur'an International, London