Unique celebration marks the birth anniversary of Prophet Muhammad at the House of Commons UK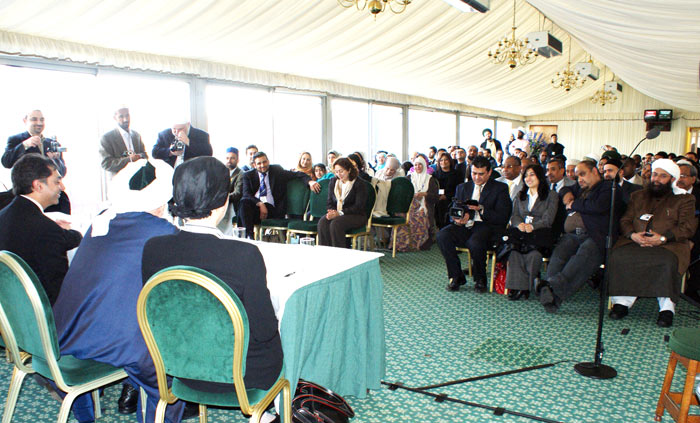 MEMBERS of the Newham based Minhaj-ul-Quran international organisation along with members of other Muslim organisations and institutions under the umbrella of the Sufi Muslim Council joined in a unique celebration at the UK House of Commons to mark the 1429th birthday anniversary of Prophet Muhammad (S.A.W). The celebration was held on Wednesday 1st April 2009 at the heart of London's political establishment in Westminster.
The Right Honourable MP Hazel Blears said: "People can come together and unite around the things that bring us together and not around the things that divide us and I am absolutely convinced. There is so much more that unites us than divides us and in this room today we can feel exactly that." Ms Blears comments came following an interfaith meeting a day earlier at London's St Paul's Cathedral.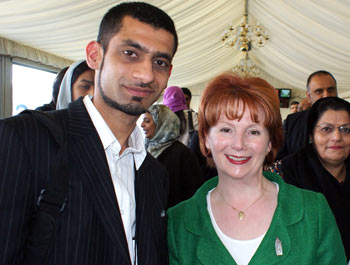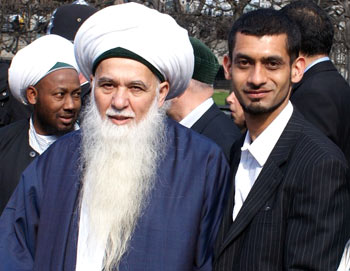 Speaking about the Mawlid festival Secretary of State for Communities and Local Government Ms Hazel Blears said: "This is a very special time, the birthday of Muhammad (PBUH) is special for people right across the world from Berra to Baghdad and from Damascus to Dudley here in Britain."
Last year Ms Hazel Blear was lucky enough to visit Pakistan, India and Bangladesh. She visited Sufi seminaries and shrines. Ms Blear spoke of her experience, she said: "What I was really struck by was how the Sufi values of peace and tolerance are in fact those universal values which unite us whichever country we come from and whatever our background." MP Blear also said: "I was also struck to discover significant parts of the Sikh holy book actually consisting of teachings from Sufi Shuyukh"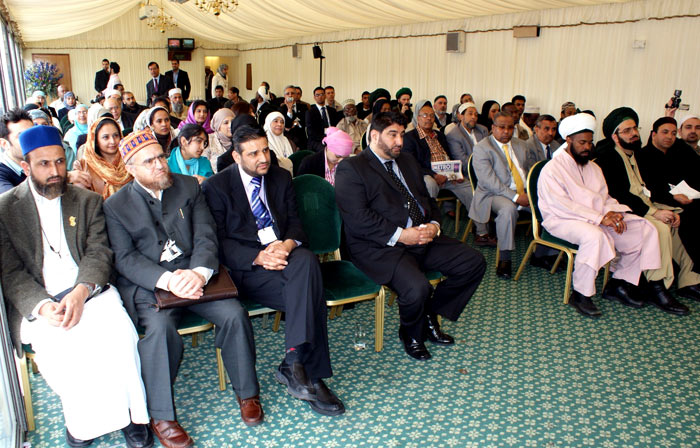 During her visit of the Indo-Pak subcontinent Ms Blear visited the shrine of the illustrious patron Muslim saint Shaykh Nizamuddin al-Awliya, often referred to as Mahbub al-Illahi, or the beloved of God. Shaykh Nizamuddin al-Awliya's shrine stands erect in the old part of Delhi in India. In relation to her homage to the saint's shrine, Ms Blear said: "I actually saw sitting side by side praying Muslims, Hindus and Sikh people, all praying for that message of peace and tolerance and that was a wonderful thing for me to see there."
Also speaking at the event was MP Jacqui Smith, she told listeners: "It's a pleasure to e able to speak here on a day of great celebration." Speaking of the mystical dimension of Islam MP Jacqui Smith told listeners: "Sufism has a great tradition across the Muslim faith and rightly projected Islam as a faith of moderation, respect, peace and justice. That is fundamentally important I think for the way in which we are to celebrate the contribution made by your faith and you as individuals in this country. Because they are important values that people of all faiths and communities can share as a template for the way in which we live."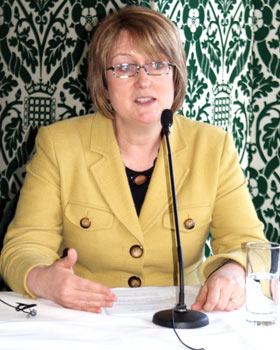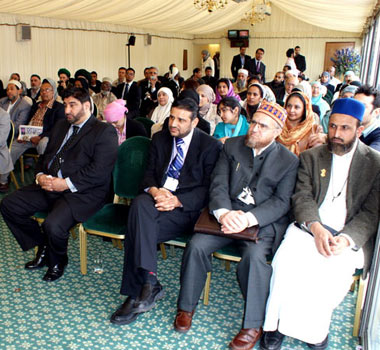 The Right honourable Member of Parliament Jacqui Smith said: "I firmly believe that the vast majority of people in this country share far more in terms of our common values than separate us, regardless of our faith or our community or geographical or even sometimes our political background. Respect, justice and common decency are values that I certainly recognise and the vast majority of people that I meet across Britain, no matter of their faith or their age or their background or their colour. It's that sense of common humanity that I see when I talk to people about their jobs, their schools or their hospitals. Because let's face it, people have the same hopes and they have the same fears for the future, that they want to work hard and to provide for their families."
UK Home Secretary Jacqui Smith also said: "Parents want their children to be well educated so they can meet their full potential and do well in their life. People want to feel secure in their homes and safe on the streets."
The earliest Muslims communities of the Indo-Pak subcontinent settled in the United Kingdom shortly after the Second World War. The earliest institution of Muslim worship established in the UK was the Shah Jahan mosque in Woking, Surrey. Praising the contributions made by Muslim communities in the UK, Ms Jacqui Smith said: "Across British life the Muslim communities are a fantastic asset and on this day of great celebration I think it worthwhile taking a moment to remember that and to celebrate it." Ms Smith also praised the positive contributions of the Muslim community right across the country in the areas of: arts, politics and academia and in the business world, she said: "Thank you for the role you play in helping all of us celebrate the contribution that Muslim life is making to this country to making us a better, a richer and a better place to live in."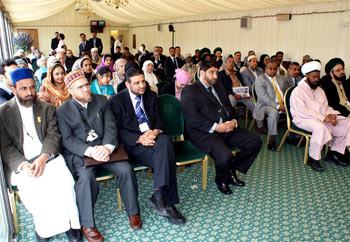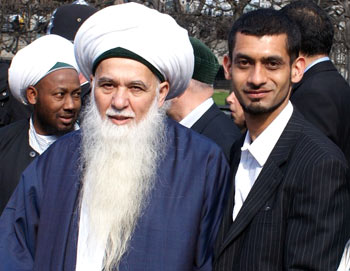 World renowned Sufi Master Shaykh Muhammad Hisham al-Kabbani said Moses, Jesus and Prophet Muhammad (PBUH) – they are a mercy to humanity. Shaykh Kabbani said: "What do we think we have to do for them, it's very simple. Every one of you I believe, a Muslim or non Muslim will get a cake and what they do with the cake they eat it. If my son or daughter is in school, they have a lot of friends Muslim and non Muslim they come together girls and boys, they celebrate the event and they share the cake."
Shaykh Kabbani also said: "So we can eat from the cake of Jesus, we can eat from the cake of Moses; we can eat from the cake of Muhammad. Because all of them, they have moral excellence. They brought to humanity human and that's why its a big cake that I am seeing Muslims and non Muslims from different faiths are here to share that cake and we don't want to go without a piece of that cake."
In an exclusive message of thanks Chairman of the Sufi Muslim Council Shaykh Kabbani said: "We are glad and we are very thankful for the support of her eminence, the honourable minister Ms Blears and all the time she supports the Sufi Muslim Council. We hope she will continue she helps everyone other than us also in order to achieve a better life in England and everywhere else for Muslims, non Muslims and also for everyone who seeks peace, harmony and love."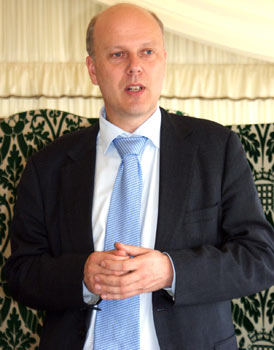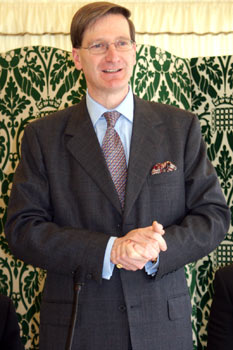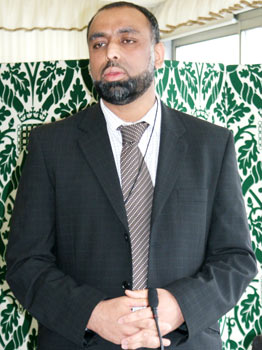 The lavish function held at the function area of the House of Commons was also attended by the Director of Religion Shaykh Sadiq Qureshi of the Minhaj-ul-Quran International centre in Forest Gate and the centre's General Secretary Abbass Aziz, Prof Nisar Sulemani, ex-lecturer of the School of African and Oriental Studies in London, Dr Hadieh Mirahmadi Executive Director of the World Organisation for Research, Development and Education; also an Attorney by profession, Conservative MP for Epsom Shadow Home Secretary Chris Grayling and Conservative MP for Beaconsfield Shadow Justice Secretary Dominic Grieve – he is also a Queen's Counsel.
Director of Religious Affairs of the Minhaj-ul-Quran centre in Forest Gate, Shaykh Abdul Basit al-Qadri said in the pre-Islamic era the Arabs had an omen when a female was born she were buried alive in the pagan Arab era. The holy Quran came with a verse regarding the omen. The Quran and the Prophet (saw) stipulated this to be a sin. Prophet Muhammad (saw) gave rights to women, human rights, inheritance rights and equality.
Shaykh Abdul Basit Qadri gave a chilling account of an old female in the advent of Islam who frequently threw garbage upon Prophet Muhammad. When the woman fell ill Prophet Muhammad paid her a visit. On seeing his good hearted nature and sincerity she embraced Islam. Abdul Basit Qadri said: "The Prophet extended his hand to the old woman and enquired about her well being. Many lessons can be learnt from this, the major being that only love and tolerance can eliminate hatred and extremism."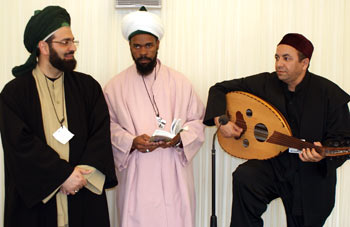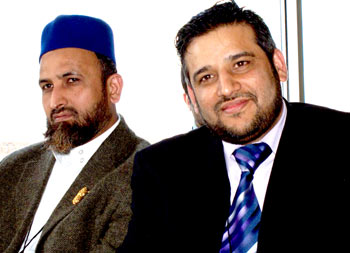 Abdul Basit al-Qadri is an expert in Classical Islam and Arabic Language. He is also ex-project co-ordinator of the Muslim Mediation Service run by the Newham based organisation Conflict and Change in East Ham.
Chairman of the Minhaj-ul-Quran International in Forest Gate Ishtiaq Ahmad in a joint statement with the centre's External Affairs Secretary Asif Shakoor said: "It gives us a real sense of joy and happiness to celebrate the birth of Prophet Muhammad here today at the House of Commons. Muslims all around the world from East to West and from North to South are celebrating and rejoicing the birth of the Prophet. We would like to extend our heart-felt welcome to every peace loving individual to be our guest in similar celebrations we have seen here today. Whether you are Muslim or non Muslim, Christian, Jewish, Hindu, Sikh, Buddhist, Zoroastrian or atheist we would like everyone to partake in such peaceful celebrations wherever they are held. Extremism and hatred certainly are alien to and incompatible with Islam's peaceful nature."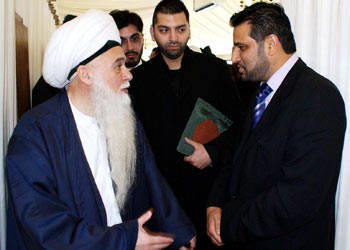 London branch of Minhaj-ul-Quran organisation also held a festive celebration to mark the birth anniversary of Prophet Muhammad. The event included participation from local faith Leaders Father Matlub Barnabas of St Emanuel's Church in Forest Gate and Newham Sikh faith representative Captain Gurmal Singh.
By Asif Shakoor (Media Secretary London, UK)