A grand Miraj-un-Nabi (saw) Conference under MQI Japan banner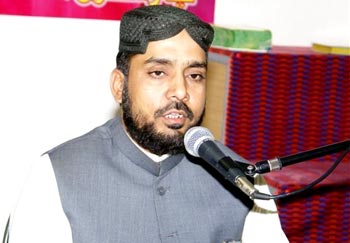 On July 9, 2009 (Thursday), a grand spiritual Miraj-un-Nabi (saw) Conference was held under the aegis of MQI Japan in Abara city. Allama Rana Muhammad Idrees Rana was the chief guest in the conference. The proceedings of the Conference got underway with recitation from the Holy Quran followed by Naat.
Allama Idrees delivered very simple and detailed address to the participants on the topic of Miraj-un-Nabi (saw). He urged the audience to let their families know about the importance of Islamic festivals. He also asked mothers to narrate Islamic stories to their children before sleep so that they should be able to enhance their information about Islam and its teachings. Rana Idrees gifted the frame of Durood to the Imam of Bilal Mosque which he happily received. Besides this, this was also gifted to Haji Naeem Khan. A large number of Muslims of the Abara city participated in the program.
Reported by: Shahid Raza Chaudhry (Japan)
Edit by: Mian Ishtiaq (DFA)