'Ideas are the best' weapons: Islamic scholar
This article is taken from http://www.thestar.com/news/world/article/679769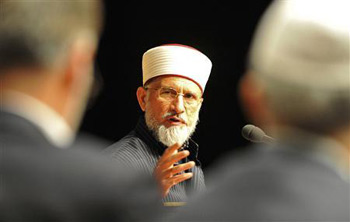 Mohammed Tahir ul-Qadri launches 'intellectual war' on terrorism with sermons on peace and tolerance
Mohammed Tahir ul-Qadri is on the phone, talking about war, but he is not referring to guns.
"I don't know how to use a pistol," admits the Pakistani-born Islamic scholar, who is in Birmingham, England, at the moment, though he spends roughly 10 months a year in Canada, his adopted home for the past several years. "If you put a pistol in my hand, I wouldn't know how to use it."
The 58-year-old spiritual leader does know how to use words and ideas, however, and he is recruiting them both in the cause of peace.
"I have, you can say, announced an intellectual and spiritual war against extremism and terrorism. I believe this is the time to stand up for moderate Islamic scholars who believe in peace."
Forget for now the lurid images of hatred and bloodshed that have dominated Western perceptions of Islam in recent years, and lend an ear to this voluble, bespectacled Canadian grandfather, who is at the forefront of what some might call a renaissance of moderate Islam, preaching a doctrine of inclusion and tolerance.
"He is definitely a scholar who should be highlighted," says Asad Dean, a Muslim community organizer in Toronto. "He has a fantastic relationship with all the communities."
In their struggle for the hearts and minds of the world's 1.4 billion Muslims, Qadri and other like-minded clerics are squaring off against ruthless organizations, such as the Taliban and Al Qaeda, which present a very different facet of Islam, one that celebrates violence while rejecting any prospect of accommodation with the West.
The welfare, livelihood and dreams of tens of millions of people around the globe depend on which side triumphs in this battle of words and ideas, a battle that is also a contest of military might – in Afghanistan, Pakistan and Iraq.
Qadri is far from alone in this fight.
Partly in response to U.S. President Barack Obama's recent opening to the Muslim world, moderate Islamic clerics in many lands have been emboldened to speak out against those who traffic in the weapons of hate.
"Ideas are the best arms," Qadri says. "Societies should be armed with better ideas.
"To me, the ideal society in the world is Canadian society," he says. "We believe in the letter and spirit of multiculturalism."
Qadri has no patience with violent extremists who claim to represent his faith.
Lately, it is Osama bin Laden and his ilk who have transfixed the attention of the West, but Qadri regards them as exceptions – traitors to Islam – who have achieved an influence out of proportion to their numbers.
In large measure, he holds the news media responsible for presenting a distorted picture of Islam, one that depicts its adherents as fist-waving advocates of hate.
"Millions and millions of Muslim people – more than a billion – are living a peaceful life," he says, "but their life does not create news."
Violence, of course, does create news, as do tyranny and intolerance.
"They make women stay in their homes," he says of Muslim extremists. "They destroy girls' schools. This is against Islam, totally wrong. This has created a very bad image."
Qadri, who has served for a time as a member of Pakistan's National Assembly, has spent years promoting interfaith dialogue, largely through Minhaj-ul-Quran International, a non-governmental organization he founded in 1980 and still heads.
Qadri, who will return to Canada early next month, lives near Hamilton, where he devotes himself to writing about Islam. He says he is determined to change the negative images now associated with his faith, while also stopping radical Islam in its tracks.
It's a tall order but an urgent one.
"We want a secure future for everybody," he says. "I speak of the human race."
More Links