Newham safer transport team visit to MQI centre during Ramadan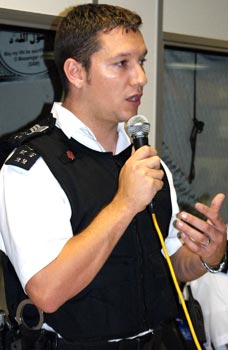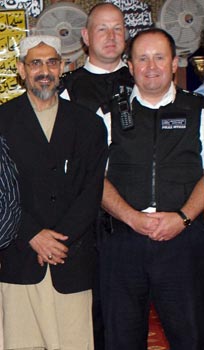 Officers from the Newham Safer Transport Team visited the Minhaj Ul Quran Mosque during the Holy time of Ramadan. This was an opportunity for the officers to celebrate with the local community who were breaking their fast.
Mr Adheel Hamed & Mr Asif Shakoor then spoke to them team about the Islamic faith, the inter-faith partnership work that the Mosque does and its youth diversion projects.
PS Hastie spoke to the community about the Safer Transport Team its roles and how it can assist the community with local issues on the buses that they use within the Borough.
PS Hastie, PS Frost and PS Elmer then held a question and answer session afterwards to discuss any bus related issues that were affecting the local community.
Mr. F. Barnadas, Rev. Darren Mcinde and Muhammad Mustafa (GM Malik) were also present at the occasion. Director Foreign Affairs and Principal Secretary to Patron-in-chief MQI Mr. GM Malik briefed the participants regarding activities of MQI for interfaith dialogue and harmony.
Chairman of the Minhaj ul Quran International centre Ishtiaq Ahmad said,
"Ramadan is a time when Muslims observe fasting for spiritual cleansing of one's carnal or vain desires. Ramadan is about developing one's will power and controlling ones anger, frustration, refraining from bad speech and bad actions. Fasting helps one overcome bad character and creates greater discipline inside human beings. It's to make us better and peaceful human beings and to make us more appreciative towards our neighbours and fellow human beings."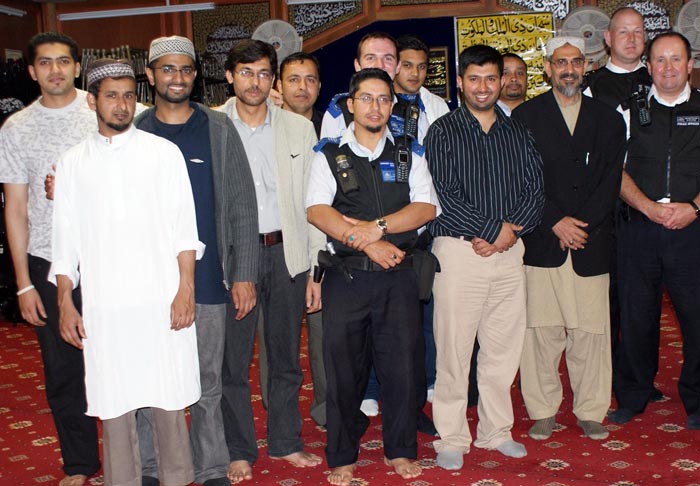 External Affairs Secretary Asif Shakoor said,
"We would like to thank the Metropolitan Police and the Safer Transport Team for warm heartedly joining us for fast breaking during the holy month of Ramadan. We hope their visit to our organisation helps them gain a better understanding of Ramadan and hope they would take with them a positive message from this Iftar- fast breaking meal. We would like to hope that they also join us in Ramadan 2010 and would like representatives from similar organizations to come forward and to join us in Ramadan."
PS Hastie said,
"This has enabled us to meet parts of the community that use the Buses within the borough and to build links with them during the holy time of Ramadan. This has also enabled officers from the team to gain a greater understanding of the Islamic Faith."