Rao Khalil Ahmad calls on Nazim-e-Ala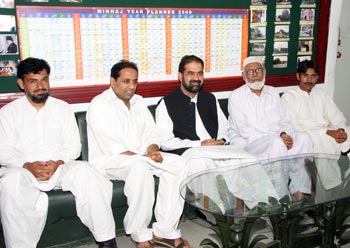 Rao Khalil Ahmad, president of Media Coordination Bureau (Europe), and Faheem Ahmad, member of MQI Sharaja, called on Dr Raheeq Ahmad Abbasi in his office in the central secretariat the other day. Director of the Foreign Affairs, G.M. Malik, was also present on the occasion. Rao Khalil Ahmad briefed the Nazim-e-Ala about the performance of Minhaj European Council. He said that the European Council was playing central role in Europe. It is determined to work for the projection and propagation of Islam in all parts of Europe. He said that the Council wanted to hold huge programmes in Europe, which would afford representatives of all faiths and community leaders an opportunity to come closer to one another and initiate sustained dialogue to make our world a better place. Dr Raheeq Ahmad Abbasi appreciated the services of the European Council and urged the Media bureau to make efforts for the projection of MQI's activities in the media.
Mr. Faheem Ahmad, member of MQI Sharja, also briefed the Nazim-e-Ala about the work of MQI in Sharja and other Arab states. The meeting continued for more than an hour. Director Foreign Affairs, Mr Muhammad Mustafa (G.M. Malik) assured both the office holders of complete cooperation from the central secretariat. The guests also visited the departments and directorates of MQI.