US Christian Delegation Visits Central Secretariat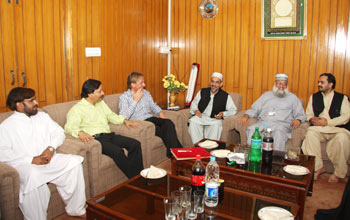 The 8-member US Christian delegation led by Mr. Leif Hetland, President Global Mission Awareness visited the Central Secretariat of Minhaj-ul-Quran International on Oct 16, 2009. The other members of the delegation included Dr Marqus Fida, Timothy Hatt, Todd Bevan, Lois Goff, Katherine Rody, Kathy Garker, Jasson Reilly Chris Ishak and Mr. Javed Akhtar.
Upon their arrival at the Central Secretariat, the guests were welcomed by the central leadership of MQI led by Director Foreign Affairs Mr Muhammad Mustafa (GM Malik), Director Interfaith Dialogue and Harmony Mr. Sohail Raza and Director of Event Management Mr. Jawad Hamid.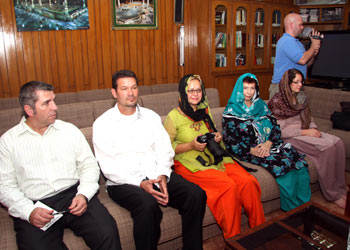 The delegation exchanged views with the leaders of Minhaj-ul-Quran International on matters of mutual interests. Naib Ameer-e-Tehreek Brig (r) Iqbal Ahmed and Director Foreign Affairs Mr. Muhammad Mustafa (GM Malik) gave a brief introduction of MQI and its various departments. He told the delegation that MQI was working for the spread of global peace and harmony within the communities. At a time when the holy name of Islam is being exploited by the terrorists for their evil agenda, the MQI was engaged in the efforts for highlighting the true teachings of Islam under the inspiring leadership of world renowned scholar Shaykh-ul-Islam Dr Muhammad Tahir-ul-Qadri.
The delegation appreciated the services being rendered by Shaykh-ul-Islam Dr Muhammad Tahir-ul-Qadri, for the spread of international peace and harmony. Representing the delegation, Mr. Heland said that there was a dire need to build bridges among the communities in order to develop better understanding about one another. He said all religions preached love, peace and mutual co-existence by urging their adherents to shun violence. He also emphasized the need of boosting such exchanges.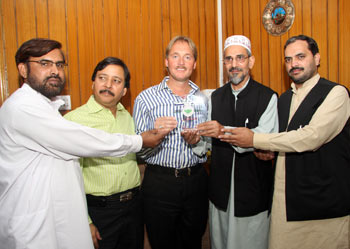 The US delegation paid warm tributes to the services of Dr. Muhammad Tahir-ul-Qadri, Chairman Pakistan Awami Tehreek, and Minhaj-ul-Quran International for promoting peace, harmony, tolerance, sympathy and love at national as well as international levels. They greatly appreciated Dr. Qadri's valuable contributions to education, welfare, inter-faith diaogue and said they are unique. The US delegation then awarded peace award to Prof. Dr. Tahir-ul-Qadri in recognition of his commendable efforts regarding promotion of peace, tolerance and interfaith dialogue. Ameer-e-Tehreek Miskeen Faiz-ur-Rahman Khan Durrani and Mr. Muhammad Mustafa (GM Malik) received the award on behalf of Dr Tahir-ul-Qadri who is currently abroad.
The visit was undertaken under the Muslim-Christian Dialogue Forum as a part of efforts for developing understanding and curtailing differences among communities. The delegation visited various departments and branches of MQI and appreciated the set-up. At the end they were seen off by the central leaders of MQI.