Foreign Executive Members of MQI-Greece Visit Central Secretariat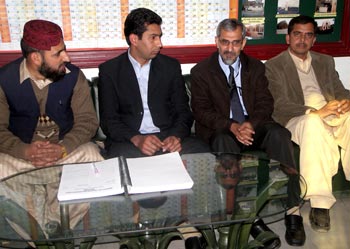 Director MQI-Greece-Anofita Mr. Tahir Hussain, Vice President MQI-Greece-Anofita Mr. Mohsin Zia and Life Member MQI-Greece Mr. Shahbaz Ahmed Siddique visited the central secretariat of Minhaj-ul-Quran International on 23-12-09. Upon the arrival of the distinguished guests, the staff members of the Directorate of Foreign Affairs led by Director Foreign Affairs Mr. Muhammad Mustafa (GM Malik), warmly welcomed them and briefed them about the progress and ongoing activities of MQI at the head office.
Office Secretary DFA Mr. Waseem Afzal Qadri, who conducted the guests to different departments of the Secretariat, briefed them about their activities and nature of work. The distinguished guests appreciated the efforts being made at various levels in different directorates and departments. Finally the delegation called on Director Foreign Affairs Muhammad Mustafa (GM Malik), and discussed with him important organizational matters of MQI-Greece. Mr. Muhammad Mustafa (GM Malik) praised the performance of MQI Greece and directed the members of delegation to keep working with the same zeal and zest.