Collective sacrifice under Minhaj Welfare Foundation Bangladesh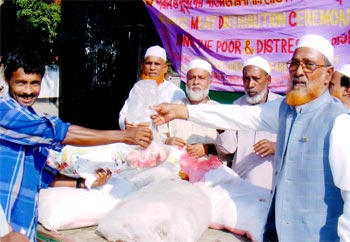 As in other countries of the world, collective sacrifice was held and skin collection campaign 2009 was carried out in Bangladesh. MQI Bangladesh had made arrangements for collective sacrifice in Chittagang and Anwara. Minhaj Welfare Foundation sacrificed hundreds of animals across different cities of Bangladesh.
Meat of the sacrificed animals was then distributed among the poor and the needy afterwards. Maulana Muhammad Abul Kalam, Secretary General of MQI Bangladesh, Khurshid-ul-Alim, Abdul Waheed, Shakir Ahmad, Abul Qasim, Muhammad Tahir, Shums-ul-Haq, Abdul Qadir and other workers were also present in the camp installed in Chittagang. Qari Zakir Hussain, president of MQI Chittagang, Maulana Zakir Hussain, Maulana Ali Aghar, president of MQI Anwara, Maulana Usman Ghani and other leaders remained presented in their respective camps.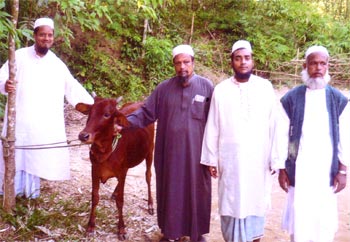 Throwing light on the aims and objectives of MQI, Maulana Abul Kalam, Secretary General of MQI Bangladesh, said that service of humanity was our purpose and public welfare was our way. He said the power of morality is our action and peace is our constant pursuit. Minhaj Welfare Foundation had made arrangements for collective sacrifice for the attainment of these objectives. He said that Shaykh-ul-Islam Dr Muhammad Tahir-ul-Qadri was engaged in welfare activities around the globe without any discrimination. The workers of MQI Bangladesh are also spreading the same message.
On the other hand, these programmes received appreciation from a cross section of Bangladeshi people. They expressed their complete trust in Shaykh-ul-Islam's message of peace and love. The local media gave prominent coverage to these events.