Muslims need to reach out to other communities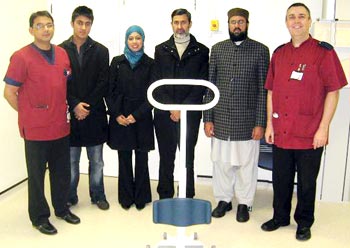 Muslims living in UK need to reach out to the followers of other religions and culture by living within their own religious limitations. Our great religion imparts the values of humanitarianism and peaceful coexistence along with others. Thus by reaching out to their countrymen, they would actually act upon the teachings of Islam. These views were expressed by Hafiz Sajjad Hussain, president of MQI Highway Cumb, in a ceremony held on December 23, 2009 in Buckinghamshire hospital. The ceremony was organized by Minhaj Welfare Foundation UK to mark the donation for a ward of the hospital.
Hafiz Sajjad Hussain was accompanied by Hafiz Zahoor Ahmad, Inam Ahmad and Sarah Ahmad. They handed over the machine to Paul Murphy, the operational manager of the hospital. Mr. Murphy appreciated the gesture, saying that the Muslims remained in the forefront of welfare activities. Due to lack of dialogue and mutual exchanges, information does not reach all and sundry. He said that if the Muslims were included in the governing boards of hospitals and other public entities as is the case with reference to schools, they would spend their energies on improving the standards of services and fostering relations among communities.
Paul Murphy welcomed the donation and dubbed it a gift from the Muslims for the patients and staff, which is appreciable. He said that it was the first occasion when a Muslim organization extended its cooperation, which would help strengthen the feelings of mutual respect and trust. Chief Executive of hospital has also written a letter of gratitude to Sagheer Ahmad, Director of Minhaj Welfare Foundation in which he has termed the donation as the 'significant contribution' of the Muslim community.