Dr Tahir-ul-Qadri terms KPK & Balochistan as gateway of progress and peace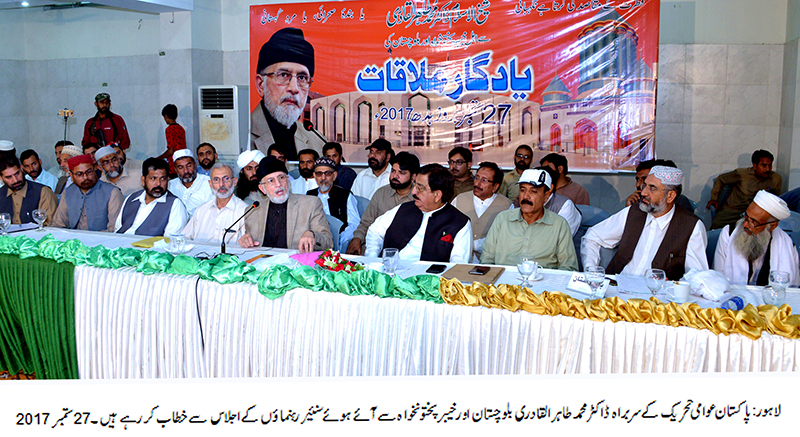 PAT leader Dr Muhammad Tahir-ul-Qadri has said that Balochistan and KPK provinces are the gateway of progress and peace respectively. He said that we do not want the kind of progress whose fruits do not reach the common man. He said that the people of both provinces are fighting the war for Pakistan's solidarity. He said that he has directed Minhaj Welfare Foundation to give preference to Balochistan when it comes to educational and health welfare projects.
Dr Tahir-ul-Qadri expressed these views while talking to senior members of MQI and PAT Balochistan and KPK chapters here in Lahore yesterday. Syed Habibullah Shah, Sheikh Abdullah Gandapur, Zia-ur-Rehman Khan, Tanvir Ahmad, Owais Ahmad Advocate, Pervaiz Hussain, Haji Shaukat Hayat, Azizullah Mahsood, Wali Akbar Khan, Badshah Hussain, and Sayyid Muhammad Ismail Shah were present in the meeting.
Dr Tahir-ul-Qadri said that it is a bitter reality that whichever party set up a government at the federal level during the past 30 years, it ignored Balochistan altogether. He said that false promises will not change the conditions of the people of KPK and Balochistan. He said that the basic issues facing the people of Balochistan are education, health, clean drinking water, peace and security of life. 'Though these problems exist in the whole country but they are present with greater intensity in Balochistan,' he explained.
The PAT leader said that the people of Balochistan have greater rights on the resources of Pakistan. He said that it is the province that fulfilled its pledge with the Quaid-i-Azam unconditionally. He said that despite discriminations and injustices, the people of KP and Balochistan have always demonstrated their unprecedented love for Pakistan.
While talking on the occasion, PAT Balochistan leader Sayyid Habibullah Shah said that whenever there is a government of PML-N in Balochistan, our deprivations increase. He said that we are fed on the diet of fake mega projects and glad tidings of prosperity. He said that there is a great anxiety among the people of Balochistan as to why former PM Nawaz Sharif did not raise his voice internationally against Kulbhusan, RAW agent, who was running a network of terrorism in the province. He said that we are of the view that Nawaz Sharif has come into the grip of law of nature for ignoring the people of Balochistan. He said that a conspiracy is afoot to create mischief in Balochistan but added in the same breath that the patriotic people of Balochistan will foil all such conspiracies with the support of the armed forces.
Khurram Nawaz Gandapur and Ahmad Nawaz Anjum received the guests on their arrival at the central secretariat.