Shaykh-ul-Islam Dr Muhammad Tahir-ul-Qadri serving humanity with dedication: Dr Noor-ul-Haq Qadri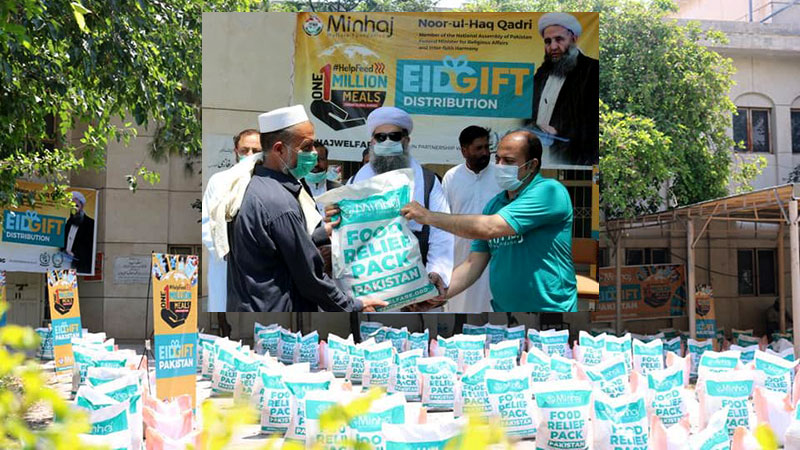 Foodstuff was distribution among the deserving people in Haji camp, district Khayber Peshawar, under the banner of Minhaj Welfare Foundation. Federal Minister for Religious Affairs Dr Noor ul Haq Qadri was the chief guest in the ceremony.
Speaking on the occasion, the Federal Minister said that the uniqueness of Shaykh-ul-Islam Dr Muhammad Tahir-ul-Qadri is that he has set up institutions of public welfare in addition to those engaged in the service of religion. He said that extending a helping hand to the poor and needy in a dignified manner is the need of hour in the present time and a noble deed in its own right.
Addressing the ration distribution ceremony, Syed Amjad Ali Shah, country director for MWF, thanked the Federal Minister for Religious Affairs Dr Noor ul Haq Qadri for his participation in the programme. He said that MWF continues to share people's happiness and grief and remains at the forefront of efforts to deliver relief to their doorsteps. He said that the distribution of food ration is taking place across the country under the aegis of MWF. He said that the prayers and the best wishes of the people are great asset.
The MWF country director said that reaching out to the people in need without any discrimination of caste, creed and colour is the policy of the Foundation. He said that we make sure through our system of volunteers that we reach out to the people who actually deserve assistance and help and the process also involves the delivery of food support in a manner that keeps their self-respect intact.
Director Interfaith Relations Sohail Ahmad Raza and General Secretary KPK Khalid Azeem Durrani and MQI Peshawar President Jamshed Ali Khan were also present on the occasion. The food ration was distribution among hundreds of people in the ceremony.