Dr Tahir-ul-Qadri condemns bomb blasts in Peshwar and Quetta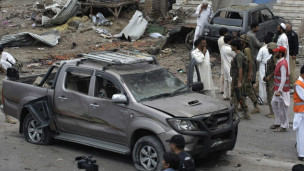 Shaykh-ul-Islam Dr Muhammad Tahir-ul-Qadri has vehemently and strongly condemned the brutal killing of around 50 people in separate bomb blasts in Quetta and Peshwar on June 30. He deplored the loss of innocent lives including women and children and added that recurring incidents of suicide bombings and bomb blasts meant that the government did not have any credible counter-terrorism strategy in place. He said that with every bomb blast, the law enforcement agencies appeared rudderless.
Dr Muhammad Tahir-ul-Qadri said that Pakistan had been in a state of war since 2001 which caused havoc both in man and material and despite passage of more than a decade, we had been clueless about the identity of terrorists, their sources of motivation, funding and training. He said that 9/11 prompted the governments around the world to formulate home-grown anti-terrorism policies, while the successive governments in Pakistan have been content with cosmetic measures against terrorism though the country has been in the thick of an asymmetrical war where enemy is both nameless, and face-less.
Dr Tahir-ul-Qadri said that in the absence of effective anti-terror legal framework, terrorism continued to thrive as the police failed to present enough evidence that could hold water in the courts of law. He said that lack of political will has characterized the government vis-à-vis policy on terrorism and extremism. He said that killings in Quetta and Peshwar were not new, adding that both of these cities had been on the hit list of terrorists. He said that though perpetrators of these horrible crimes had varying motivations, the choice of the same day for their strikes was ominous. He said that Pakistan needed to come up with home-grown and indigenous counter-terrorism policy which reflected ground realities and had the political support of the people of Pakistan.
Dr Tahir-ul-Qadri prayed to Allah Almighty to rest the departed souls in peace and give patience to the bereaved families. He also prayed for early recovery of the injured.