Share The Belssings Of Qurbani – 2012
Muslims around the world will be celebrating Eid-ul-Adha this year in Zhul-Hijjah. The Minhaj Welfare Foundation (MWF) team will make this Eid a moment of hope and joy for our brother and sisters who live in impoverished conditions in the world.
MWF with your donations will 'Share the Blessings of Qurbani' in South Asia and Africa reaching out to the orphans, poor and deprived. Please donate your Qurbani to Minhaj Welfare Foundation.
Get all the information of MWF Qurbani program 2012 this year, how and where your Qurbani will be performed.
Remember Qurbani is Wajib (necessary) for all sane, adult Muslims (both men and women) who are eligible to pay Zakah.
Qurbani can also be performed to bring rewards for our beloved Prophet (PBUH), one's spouse, relatives and friends.
Select the region in which you want your Qurbani to be performed.
Prices:

Group 1: Qurbani in Somalia, India and Ethiopia from only £35

Group 2: Qurbani/ Udhiya in Pakistan, Bangladesh, Kenya and Nigeria from only £50

Group 3: £110 Sheep ---- £135 Goat
Online: Book your Qurbani now with Minhaj Welfare Foundation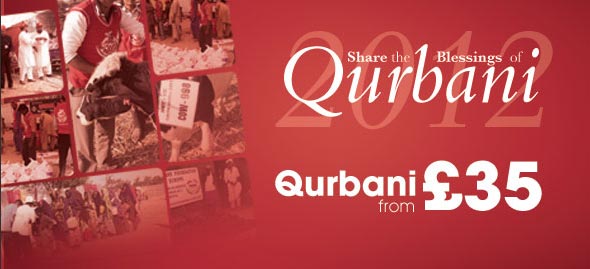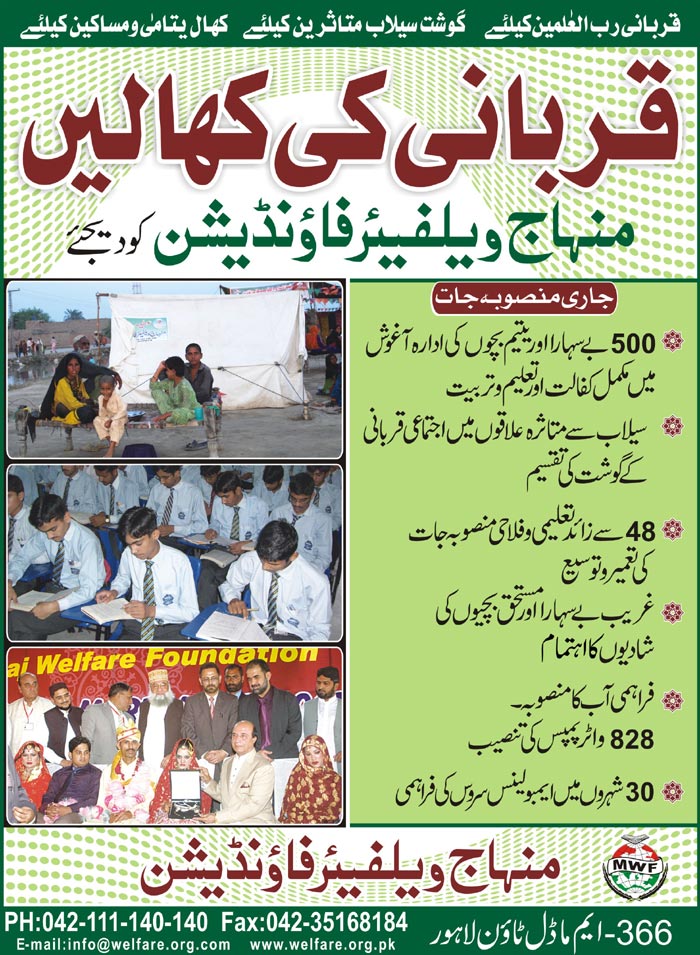 ---
Minhaj Welfare Foundation (Pakistan)

366 M, Model Town Lahore, Pakistan
Post Code : 54700
Phone : +92(42) 35168365
UAN :
+92(42)111-140-140
Fax :
+92(42)35168184
Account # :
Freedom Account No. 01977900163103 Minhaj-ul-Quran Branch
Email Director : director@welfare.org.pk
Email : info@welfare.org.pk