Food distribution to 300 families in Pakistan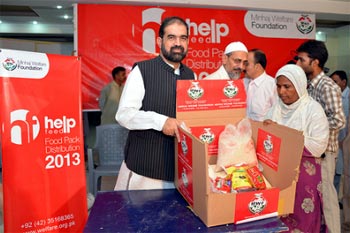 The recent increase in the international prices of food commodities has had a significant impact on Pakistan's poor people. About half of the country's population lives in a condition of food insecurity. And many more are at risk.
Minhaj Welfare Foundation (MWF) distributed food packs to almost 1400 people of poor backgrounds to provide food for the entire month of Ramadan (2013). The distribution was part of the MWF's HelpFeed program, a food and water initiative to provide deprived communities living in the third world with both short and long term means of food and water. The food pack included items such as oil, rice, flour, juice, sugar, dates, tea, various lentils, etc.
MWF Pakistan, Country director Amjad Shah highlighted that MWF is trying to bring focus on the conditions of extreme poverty in Pakistan. He said "people do not have basic access to food and water; it is really difficult for families to feed their children"
MWF is calling for financial support from donors to ensure the urgent needs of those living in extreme conditions are met. Donate £50 to provide a food pack to a family for an entire month in Pakistan or donate £3 per month (that's only 10p a day) to end the cycle of poverty.
Pakistan Floods 2013
We are also trying to bring focus to the terrible conditions the thousands of people in Pakistan are going through with the recent floods. Many are internally displaced people and are living with little food or water, limited sanitation facilities or healthcare supplies, and no opportunities to earn an income in the displaced areas.
Call our donations team now on +44 (0) 300 30 30 777 or visit our website on www.minhajwelfare.org to donate!