France: MWL pays tributes to martyrs of Karbala
With the advent of the holy month of Muharram, Minhaj Women League (France) organised a programme to remember the tragedy of Karbala and highlight the role of Sayeda Zaynab (RA) during and after the epoch-making event.
The sister who arranged the programme was Sabba Kashif who welcomed the participants for taking time out to attend the programme. Sister Uzma Waheed recited the verses from the Holy Quran and presented translation of the verses from Irfaan ul Quran. The recited Verses were from Surah Al-Baqarah 152 to 157. Then beautiful Nasheed – Praises to the Holy Prophet (SWS), were recited by Mrs. Sultana Butt followed by one recitation by Alishba Javed.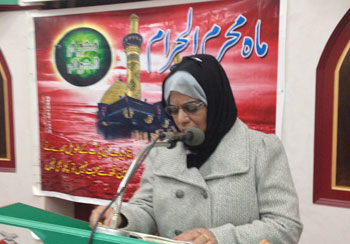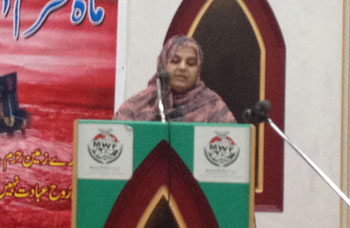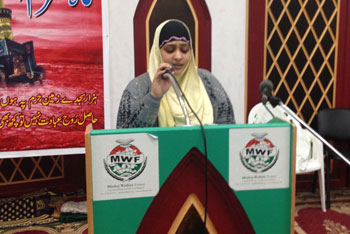 Next we had 'manqabat' recitation regarding the Tragedy of Karbala from Sister Samreen and group as well as Mrs. Mussarat Mansha. During the programme, a short clip from Shaykh ul Islam's speech was shown on the projector on the topic of the Tragedy of Karbala. After this Sister Nazia Adnan did a brief presentation to the audience regarding Gosha e Durood, its establishment, its aims, and its benefits. For this, she invited all present women to join this area-wise project and to invite their relatives as well. Then there was a series of Manqabat recitations by Mrs. Qurat ul Ain, Mrs. Sitara Malik and Rabia & Wafia.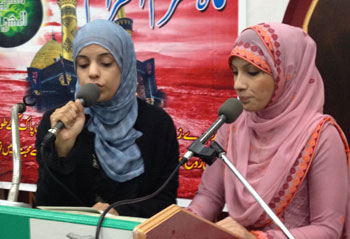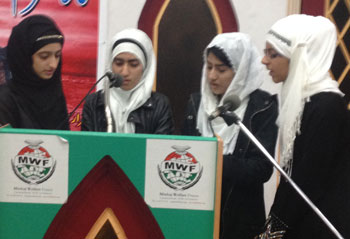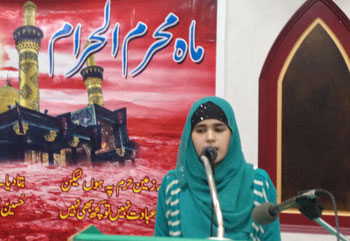 Afterwards, Mrs. Sumaira Faisal was invited on the stage so as to give her message to audience. She focused her remarks on the importance of the Aqeeda – Belief - which drives our Imaan or Faith. She emphasised the importance of the love of Prophet's Household in our lives, for this she quoted many traditions. She explained very clearly the tragedy of Karbala and underlined the role of Syeda Fatima Zahra (RA) and Syeda Zaynab (RA) who must be our role models. At the end she pointed out the fact that today all mothers must have the good knowledge so as to convey it to the next generation. The programme ended by the recitation of salutations and greetings on the Holy Prophet (peace be upon him) and prayers. Refreshment was served to the participants.
Reported by: Uzma Sahil & Sabba Kashif