Services of Haji Abdul Raazaq Yaqoob to be remembered for long time: Dr Hassan Mohi-ud-Din Qadri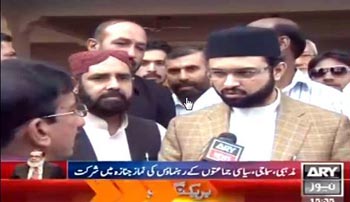 Dr Hassan Mohi-ud-Din Qadri, Chairman of MQI Supreme Council, has expressed his deep sense of grief and sorrow on the sad demise of Haji Abdul Razzaq Yaqoob, chairman of ARY Group and termed it as a great crisis for the country. He said that Haji sahib was a true Muslim, a patriot and God-fearing person.
The Chairman of the Supreme Council expressed these views during his meeting with the brother and nephew of late Haji Abdul Razzaq Yaqoob at their residence yesterday. Dr Hassain Mohi-ud-Din Qadri said that Haji sahib took great care of the poor, widows, orphans and less privileged sections of society. He said that Haji sahib would spread love of the Holy Prophet (peace be upon him) through his word and action.
He said that the void left by the death of Haji sahib would not be fulfilled for times to come, adding that services of the late ARY Group chairman for humanity would be remembered till the Day of Judgment. He prayed to Allah Almighty to rest the departed soul in peace and give patience to the bereaved family and ARY Group.