SAMAA: Soldiers and citizens' killers must be crushed with full force, says Dr. Qadri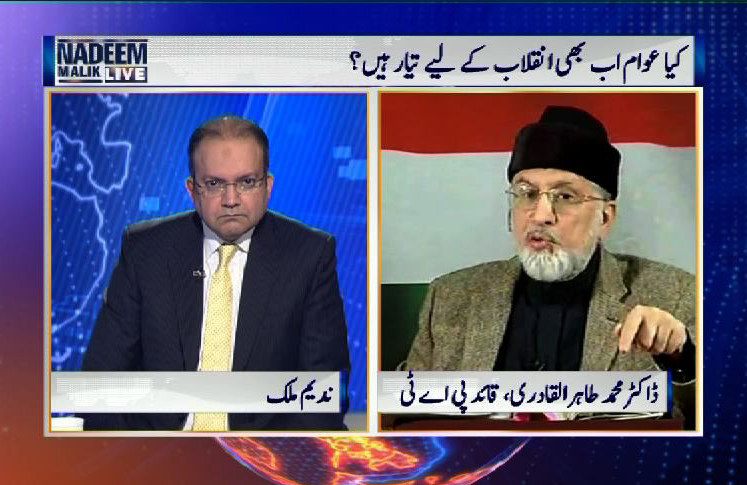 ISLAMABAD: Those who kill Pakistani soldiers and citizens mercilessly, they must be crushed and rooted out with full force, said Pakistan Awami Tehrik (PAT) Chief Dr. Tahir-ul-Qadri in SAMAA current affairs show Nadeem Malik Live on Thursday.
Dr. Tahir-ul-Qadri expressed his views over terrorism including acts of violence, and killings of the soldiers and innocent people on name of Islam by the extremists and militants in Pakistan, during special interview in SAMAA program Nadeem Malik Live this day.
Dr Qadri categorically declared militants' acts of violence and bloodshed of the soldiers and citizens of Pakistan as contrary to Islamic teaching. He quoted many Islamic references from the Islamic history with verses from Holy Quran to prove his point fully and acts of the terrorists as against the Shariat.
"Religious elders are agreed upon this estimation that who take weapons in their hands in an Islamic state, they are rebels and those should be eliminated by full force for committing murders of the soldiers and common people," observed Dr. Tahir-ul-Qadri.
"Initiating dialogues amid killings and bloodshed are against commandments of Allah and the Holy Prophet (PBUH) and no talks could take place till quitting the uprising," he added.
Dr Qadri quoted Verse No-9 of Holy Quran's 49th Surah, al-Hujurat, and recited translation of this Surah to explain Islamic teaching and commandment of Allah over the terrorism and treatment to the terrorists.
"Whenever any revolt took place against the state in past Islamic eras, an armed action had been taken by the rulers, instead of dialogues. If any talks were initiated, those remained limited to the dropping of weapons and accepting writ of the state," told Dr. Qadri.
Replying to a question over the new National Security Policy, Dr. Qadri commented that there is no draft of the policy or its approval present before the nation or the Parliament and in my personal view no such document exists and the current rulers have no strategy or policy in their minds for tackling the terrorism. SAMAA
Source: http://www.samaa.tv
Source : http://www.samaa.tv/soldiers%20citizens%E2%80%99%20killers%20must%20be%20crushed%20with%20full%20force%20says%20dr.%20qadri-77375-1.html