UK: Muslims urged to adopt 'Seerah' of the Holy Prophet (SAW)
MQI (Burnley) organized the Milad gathering on the 1st of February 2014. This took place at Mrs Maqsood Begum's house.The gathering was held to mark the occasion of birth anniversary of our Beloved Prophet (peace and blessing upon him). The stage secretary, Sabah Mazhar, opened the beautiful programme by introducing Sister Aiza Jawed to recite Surah al-Kawthar from the Holy Qur'an. Sister Sabah went on to narrate a beautiful Hadith on the importance of celebrating the birth of the Holy Prophet (peace and blessings upon him). The Mehfil continued with melodious Naats being recited by sisters Noshaza and Sanah Fiaz.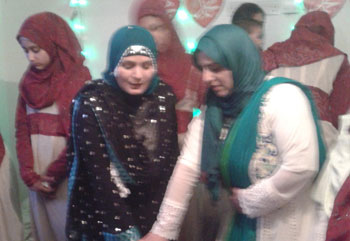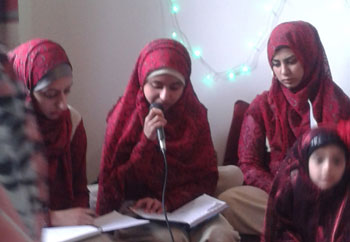 Sister Sanah Azhar spoke upon the significance of this auspicious month of Rabbi ul Awwal, when humanity was blessed by the special birth of our Beloved Prophet (peace and blessings be upon him). Sister Riffat Razzaq, Sister Raheela, Sister Nasreen Majid and Kinza Batool all recited beautiful Naats which electrified the atmosphere spiritually. Sister Aasia Ahmed delivered a beautiful and moving speech on the Mercy and the graceful Seerah of the Holy Prophet (Peace and blessing be upon him) in light of the Holy Qur'an and several Hadeeth. This speech captured the hearts of the audience and enlightened the souls of the sister's present. Sister Aisha Shakir captured everyone's attention with her amazing recitation of passionate Naats.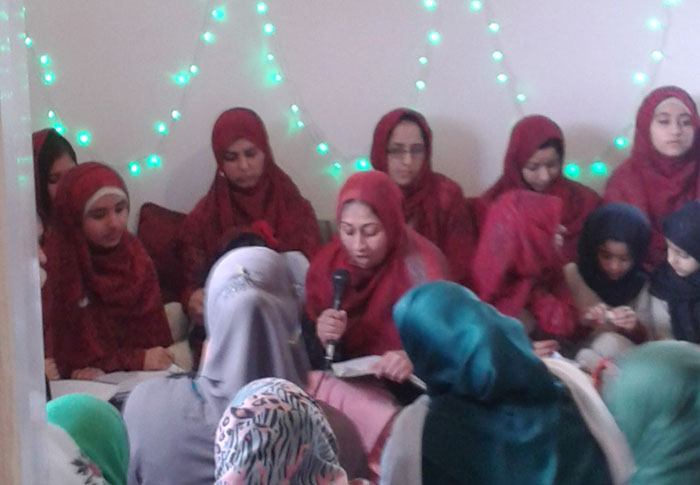 Sister Nasreen Akhtar (President of the North Zone UK) delivered a speech on Minhaj-ul-Qur'an and enlightened sisters with the mission and work that the organisation carries out. She invited sisters to join this organisation to promote Islamic message of peace, interfaith dialogue and harmony in the world. Sister Nasreen spoke about his eminence, Sheikh ul Islam Dr Muhammad Tahir-ul-Qadri and his ongoing dedication to spreading Islam and the love of the Holy Prophet (Peace and blessings be upon him). Greetings and salutations were recited upon the Beloved Prophet (peace and blessings upon him) by several sisters to mark the end of this beautiful gathering. Dua concluded the programme. An elegant birthday cake was also cut and served as a part of the Milad-un-Nabi celebrations. Food was also served on this joyous occasion.
Reported By: Moazzam Raza